This is an archived article and the information in the article may be outdated. Please look at the time stamp on the story to see when it was last updated.
SAN DIEGO – If you're one of those people who just can't seem to make it to Balboa Park before most of the park's attractions close at 6 p.m., this one's for you.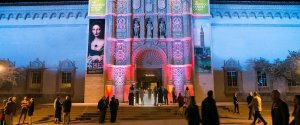 As of Friday, eight museums extended their evening hours until 8 p.m. as part of Balboa Park After Dark.
On Fridays from Memorial Day weekend to Labor Day weekend, parkgoers will be able to take advantage of extended evening hours at eight museums, as well as food trucks and entertainment throughout the park.
On top of the later hours, some of the museums have special discounts. In May and June, IMAX movies at the Fleet Science Center are half off after 7 p.m., and at the San Diego Museum of Art's Art After Hours is $5 admission after 5 p.m.