This is an archived article and the information in the article may be outdated. Please look at the time stamp on the story to see when it was last updated.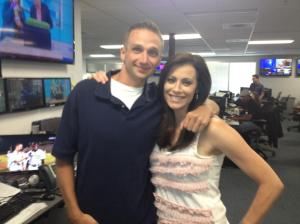 I ran into an old friend today.  That might not seem like a big deal, but this friend died twice in a San Diego ER in January.
His name is John Masse. He's is a U-Conn loving, joke-telling, smart-aleck who happens to be one of our Fox 5 directors.  He can call shots, cue reporters and talk in my earpiece nearly simultaneously.  That was until four months ago when he landed on his head and slammed his body into the asphalt on a Linda Vista Road.
Masse was riding his motorcycle during his dinner break between the 6 p.m. and 10 p.m. newscasts.  At 9:55 p.m., my executive producer was beckoning me to the set, when I cracked back, "I can't find my mic or IFB!  Who's running audio?"
Silence. Then, furrowed brows.  Almost in sync, we all turned to look at the empty audio booth seemingly untouched.
I'll never forget what it looked like.  Dark.  Still.  I turned to my EP again, "something must be wrong."
We all immediately began leaving messages for John.  "Where are you?" "Dude, we're five minutes to show time." "John, call me, I'm worried."  The sentiments echoed through the newsroom.
We then regrouped and got the show rolling.  I kept asking for updates during the newscast, but they were insulating me from what was happening since I was doing live TV.  When finally, I begged and my producer told me, "John was in an accident."
Looking back at that night, the cool thing about it was, not one person in that entire building thought John was sloughing off his job.  He had recently accepted a new position back home in Connecticut and was a short timer.  But none of us for a single moment thought he'd blow off his job or us.  But even more impressive, the utter devotion the station showed to his recovery, particularly in those first few days and weeks, when we were told John might not make it.
This management group was nothing short of extraordinary.  Sitting by his bedside, spending the night at the emergency room, securing his health insurance since he was in transition with his job.  They had his back.  And in a climate of corporate greed, this was a display of what's right in this world.
Fast forward to today.  John showed up at the station.  Walking (he broke his back), talking (suffered major brain injuries) and joking (they are still warped) like his old self.  He moves a little slower, but has lept farther and faster than any of us or medical professional could have imagined.
Today, he is back from the brink with a renewed sense of purpose and affection, not to mention some gnarley new scars he wasn't shy about showing off.  He is a walking testament to miracles and never giving up.
Ironically, he's the one who would end our shows with a cue to "fade to black."  We thought that might be his own fate.  But John, always the director, was calling the shots… and his show isn't over.  Thank God.