This is an archived article and the information in the article may be outdated. Please look at the time stamp on the story to see when it was last updated.
SAN DIEGO — A baby boy was born early Thursday in a pickup stopped on the side of Interstate 15, authorities said.
"The head was already crowning and I had her in the front seat," said Dave Atkinson, the baby's father. "I was panicking a little bit because she was screaming at the top of her lungs."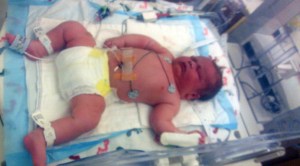 The pregnant woman went into labor as her husband was driving her UCSD Medical Center. The man driving pulled over to the shoulder of the southbound lanes near Ted Williams Parkway and called 911. Paramedics arrived and help deliver a baby boy in the front seat of the pickup.
"I said to her to hold on, try and hold on a little longer but she said no way – pull over and call 911," said Atkinson.
The mother and child were taken to Sharp Mary Birch Hospital by ambulance. CHP officers directed traffic around the stopped vehicle.
Fox 5 spoke with the father by telephone at the hospital. He said  their 10-pound son is named Hank, and  both mother and baby are doing well.  Hank is her fourth child.
Hank's mother, Katie Ashcraft had been scheduled to have a c-section later this month because of the size of the baby, but Hank apparently could not wait.