This is an archived article and the information in the article may be outdated. Please look at the time stamp on the story to see when it was last updated.
SAN DIEGO – San Diego State baseball team claimed the Mountain West Conference tournament title Sunday after upsetting No. 13 New Mexico 9-4.
Aztec junior Philip Walby was the starting pitcher against the Lobo squad that leads the nation in hitting with a .338 team batting average.   He lasted five innings and allowed a pair of runs on five hits, two walks and a strikeout.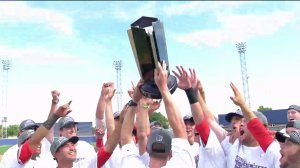 SDSU took the lead with a run in the top of the second when freshman Ty France scored on a grounder by Aztec's senior Jake Romanski.  France would go on to record four hits on the afternoon including a double, home run, three RBI and three runs scored.
France from West Covina, Calif., would be named tourney MVP after hitting .762 with a tournament record 16 hits over SDSU's six contests.
Walby was credited with the victory, his second of the tournament, to improve to 5-3.
With winning the MWC title, the Aztecs will receive an automatic bid into the NCAA Regionals.
They will find out Monday morning who they will be playing in the NCAA Regionals to be held next weekend.