This is an archived article and the information in the article may be outdated. Please look at the time stamp on the story to see when it was last updated.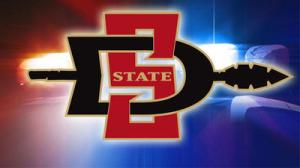 SAN DIEGO – A man tried to steal another man's cell phone near San Diego State University, but the intended victim decked the would-be robber and ran off, police said.
The suspect approached the intended victim on Montezuma Road near 63rd Street and demanded his phone at about 3:10 a.m., according to university police.
However, the victim struck the suspect and knocked him to the ground, police said. The assailant ran away, and the suspect fled empty-handed north on 63rd Street, police said.
Police described the suspect as black, 20-25 years old, and 6 feet 2 with a medium build and facial hair. He was wearing black pants and a gray SDSU hooded sweatshirt with the hood pulled over his head.
Anyone with information is asked to call the San Diego Police Department at (619) 531-2000, or email police@mail.sdsu.edu.