This is an archived article and the information in the article may be outdated. Please look at the time stamp on the story to see when it was last updated.
THOUSAND OAKS, Calif. -- A gunman opened fire in a packed bar in Thousand Oaks on Wednesday night, killing at least 12 people, including a sheriff's sergeant, and wounding others before being found dead at the scene, according to Ventura County Sheriff Geoff Dean.
A Coronado man, 23-year-old Justin Meek, was among the people killed in the attack.
About 11:20 p.m., authorities received multiple 911 calls about shots being fired at the Borderline Bar & Grill, located at 99 Rolling Oaks Drive.
A sheriff's sergeant and a California Highway Patrol officer were the first to arrive, responding within minutes, Dean said. After hearing gunshots, they decided to go into the restaurant.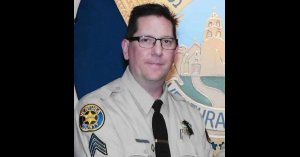 Sgt. Ron Helus entered and was hit by multiple bullets, the sheriff said. The CHP officer went out and secured the perimeter until additional units arrived, then went to rescue Helus.
Multiple law enforcement agencies went into the bar where they found 11 victims killed inside.
The suspected shooter, identified as 28-year-old Ian David Long, was also found dead. The sheriff said the shooter likely took his own life. Long was a veteran of the U.S. Marine Corps.
The sheriff estimated a dozen or more people were injured. At least 15 people arrived at hospitals.
"It's a horrific scene in there, there is blood everywhere and the suspect is part of that, and I didn't want to get that close and disturb the scene and possibly disturb the investigation," he said.
This slideshow requires JavaScript.
The source told the newspaper the suspect drove his mother's car to the bar, was armed with a .45 caliber handgun and had some kind of smoke device with him. Investigators did not find any type of assault rifle in the bar, he added.
Investigators are working to determine a motive.
Witnessed described the gunman as tall and wearing all black with a hood over his head and his face partly covered. They said he first fired on a person working the door, then appeared to open fire at random at the people inside.
People screamed and ran to all corners of the bar, while a few people threw barstools through the windows and helped dozens to escape, according to witnesses.
"We have no idea whether there is a terrorism link or not," Dean said, adding there was no reason to believe there was, but they would look at that option.
The shooting took place at the bar was hosting its weekly "College Country Night." "Hundreds" of people – many college students from nearby universities – were inside, witnesses said.
Los Angeles Mayor Eric Garcetti said three off-duty Los Angeles police officers were at the bar when the shooting happened. They helped get people out of bar and assisted in medical aid to the victims, he said. None of the officers were injured.
Three off-duty @LAPDHQ officers were present at the shooting in #ThousandOaks but are thankfully uninjured. They assisted in evacuation & treatment on-scene. City flags will be at half-mast today in honor of victims, including @VENTURASHERIFF Sgt. Ron Helus who died a hero. EG

— Eric Garcetti (@ericgarcetti) November 8, 2018
The bar, which includes a large dance hall with a stage and a pool room along with several smaller areas for eating and drinking, is a popular hangout for students from nearby California Lutheran University. Classes were canceled for the day following the shooting.
Other schools in the area include California State University Channel Islands in Camarillo, Pepperdine University in Malibu and Moorpark College in Moorpark.
In light of the tragic events that occurred last night in Thousand Oaks, classes have been canceled today. University offices remain open. Visit our emergency page for more resources and updates at https://t.co/lXis049Ii9

— Cal Lutheran (@CalLutheran) November 8, 2018
Sgt. Helus died at a hospital sometime before 2 a.m. Helus, a 29-year veteran, was looking to retire next year. He lived in Moorpark and is survived by his wife and son.
"Ron was a hardworking dedicated sheriff's sergeant," Dean said. "He died a hero. He went in to save lives."
A procession honoring Sgt. Helus took place at 10 a.m.
Jason Coffman heard the news of the shooting and immediately searched for his son Cody. Hours later, Coffman was told his 22-year-old son was among the victims. He said he spoke to his son earlier in the night and told him to not drink and drive and that he loved him.
Jason Coffman shows a photo of his 22-year-old son Cody Coffman. He was told his son was among the victims of the Borderline Bar and Grill massacre in Thousand Oaks, Calif. https://t.co/uhaIqtGGgr pic.twitter.com/LsU6JdQKc3

— FOX 5 San Diego (@fox5sandiego) November 8, 2018
"It's a horrific incident. It's part of the horrors that are happening in our country and everywhere," Dean said. "And I think it's impossible to put any logic or sense into the senseless."
Shootings of any kind are very rare in Thousand Oaks, a city of about 130,000 people about 40 miles west of Los Angeles.
It's considered among the safest cities in the U.S., according to Mayor Andy Fox.
"We are consistently ranked one of the highest with respect to the lowest crime rate per capita," he told CNN. "The reality is that these types of incidents can happen really at any place, at any time, even in communities that are considered extremely safe."
Families and friends of other people who were at the bar during the "college country night" were frantically searching for loved one's Thursday morning.
An emergency hotline was set up to locate victims and survivors. It is 805-465-6650.