This is an archived article and the information in the article may be outdated. Please look at the time stamp on the story to see when it was last updated.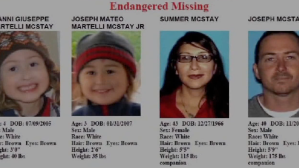 SAN DIEGO – The father of murder victim Joseph McStay is outraged at the author who wrote about the McStay case.
The book No Good-Byes is no longer for sale following the developments in San Bernardino County last week.
The bodies of Joseph and Summer McStay were discovered in the desert near Victorville. The bodies of two children were also found, presumed to be the couples' two children.
Patrick McStay said years ago he and Baker were in negotiations on a book deal where Baker would be the ghostwriter.
He claims the two signed a contract, but Baker backed out and proceeded to write the book, No Good-Byes, on his own.
In the book Baker wrote that he believed Summer McStay probably killed Joseph McStay and took off with their two sons.
"He's a flat, outright liar," McStay said. "He's done nothing but use the pain and suffering of my family to advance himself."
Baker disagreed with McStays' claims.
"I am sorry that Patrick feels this way. My conscience is clear," said Baker. "I have donated all book profits and offered a refund for anyone who purchased the book and asked Amazon to remove the book from sale. I never signed any book contract with Patrick, as he claims, nor have I advanced myself in any way. In fact, my theories were wrong, so if anything, I have opened myself up to intense criticism as a result.  However, it is my sole desire to see justice brought to the McStay family and I pray that LE will make an arrest soon."
Baker also runs a blog regarding the case. After the bodies were found last week, the blog was initially taken down. It has since been re-launched. The website provides details to those who purchased the book on how to receive a refund.
A statement on the blog reads, "I re-launched this blog to provide a place for the followers – and now grievers – of the McStays to talk, communicate, share and gather, not to accuse. Let's all be careful and not accuse anyone of this crime."
McStay has also been outspoken about how he feels the San Diego County Sheriff's Department handled the case.
"I want the San Diego Sheriff's Department investigated," McStay said. "I want them stopped from botching all these cases."
McStay claims he provided investigators with leads and that a lot were ignored. Sheriff's spokesperson Jan Caldwell disagreed with the accusations.
"We investigated every tip he gave us," said Caldwell. "A lot of times the information he had we already did have and we'd already investigated it."
Caldwell said detectives investigated hundreds of leads.
"They closed the door on each lead," she said. "A lot of time interviewing neighbors, coworkers, friends, going through financial records, credit card records, banking records, phone records. You name it. They went through it."
The San Diego County Sheriff's Department has now turned the case over to the San Bernardino County Sheriff's Department.