This is an archived article and the information in the article may be outdated. Please look at the time stamp on the story to see when it was last updated.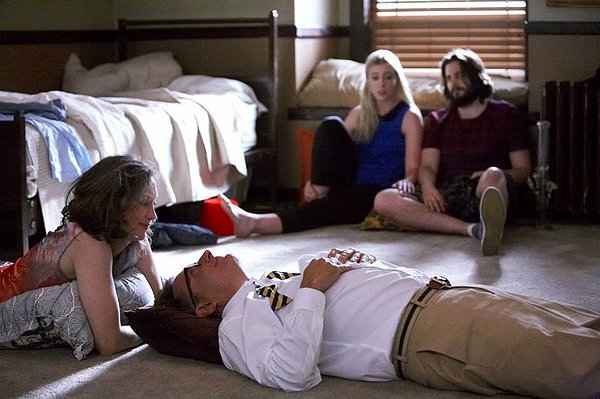 This is the type of movie that can be hard to review. That's because it's really not a great picture. Written and directed by Adam Rodgers, it's rather lightweight material that might've worked better on the small screen. Yet you'll find Andy Garcia and Vera Farmiga so charming, the film still kind of worked for me.
It's a family affair, too. We see Andy's daughter Dominik Garcia-Lorid (City Island) and Vera's sister Taissa Farmiga plays her daughter in this.
The movie doesn't have an authentic thing about it, but you'll still find yourself smiling as you watch these adults and their kids tour the college campus of Middleton.
Garcia plays George Hartman, a heart surgeon that's a bit stuffy. His son Conrad (Spencer Lofranco) isn't very interested in the college tour for a variety of reasons, one being that his dad insists he wear a tie (lucky for him, it's not a bow tie like dad dons).
Edith (Vera Farmiga) is one of those free-spirits that in real life we'd be annoyed by, but in movies you adore. She sells furniture, and seems a lot less interested than her over-achieving daughter Audrey (Taissa Farmiga).
They have a meet-cute in the parking lot, when George feels she swiped his parking space from him. That happens because he prefers to back into spaces, which make others thing he's driving past the spot.
The two have nothing in common, except for the fact that they don't seem particularly happy in their marriages or in life. They end up ditching their kids and taking a tour of the campus on their own, which is perhaps a tad more believable these days with everyone having a cell phone and not having to worry about being lost or knowing where their kids are every second.
They start to open up and enjoy each others company, as they steal bicycles or spy on the drama department doing wacky acting exercises. Of course, it made me think of the much better Garcia film City Island from a few years ago, where Alan Arkin is the drama teacher. Instead of Garcia doing his Marlon Brando impersonation like he did in that, we see him and her open up about their lives in an improv bit the drama teacher insists they try. It was one of those scenes that was a little emotional, but could've been more powerful if written in a more realistic fashion. There were a handful of scenes like that, most notably the time they meet some college students and do bong hits back at their dorm. That's also the type of scene that's been done to death – the straight-laced guy loosening his tie, giggling at nothing. It added nothing but some eye-rolling from the audience.
Yet a scene with them playing piano was romantic and playful. It seems most movies that have a couple that's getting to know each other and sits down at a piano together…something about that works on screen.
The kids aren't getting along quite as well as the parents, but at least they seem like realistic college kids.
Peter Riegert, one of the rebels from the king of all college movies – Animal House – shows up as the hippie and hip college DJ. Nothing wrong with that character, but the lines he's asked to deliver are painfully bad. I found myself wishing it were Dr. Johnny Fever.
Now, Tom Skerrit as a linguistics professor was very well-cast and written. I enjoyed his scenes with Taissa Farmiga and they went in interesting directions. Skerrit and Riegert impart some life lessons in their brief appearances, then it's back to more college shenanigans.
The movie concluded in a way that was refreshing and realistic, and you'll be glad you got to spend time with these folks.
The movie's only showing at the Reading Gaslamp downtown. I recommend it to parents and their kids that may be entering college soon.
It's certainly a pleasant enough way to spend a Saturday afternoon, even if it isn't a perfect film.
It gets 2 ½ stars out of 5.