This is an archived article and the information in the article may be outdated. Please look at the time stamp on the story to see when it was last updated.
SAN DIEGO — Six people were injured early Monday when a downtown San Diego hotel caught fire, authorities said.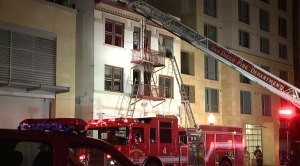 The fire at Hotel Heritage at 547 Ninth Ave. between Market St. and Island Ave. in the East Village was reported at  about 2 a.m., according to a San Diego fire-rescue spokesman Maurice Luque.
"When crews arrived, there was a lot of smoke and fire showing from the second floor," Luque said. "They attacked the fire. Meantime though, there were three people who jumped from the second story to safety. One was unconscious and had some possibly very serious injuries. The two others had some minor injuries."
Four other hotel residents suffered from smoke inhalation, Luque said. Three of those people and the three people who jumped from the hotel were taken to local hospitals. Their conditions were not immediately released.
The fire, which began in a unit on the second floor, quickly spread. Because of the injuries, authorities called in additional firefighters. It took 50 firefighters about 30 minutes to knock down the blaze, but it destroyed all of the second floor, Luque said. The third floor suffered heavy smoke damage and the first floor had serious water damage, he said.
The San Diego/Imperial Chapter of the American Red Cross said the fire displaced at least 14 people.
The Red Cross is on the scene assisting those victims.
Investigators know in which unit the fire started, but the cause was under investigation, Luque said.