This is an archived article and the information in the article may be outdated. Please look at the time stamp on the story to see when it was last updated.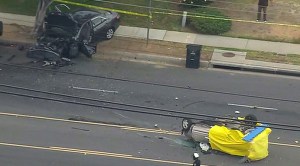 SAN DIEGO — One person was killed and another injured Thursday in a head-on collision on a residential street in the South Bay, authorities said.
The fatal collision was reported at 8:43 a.m. in the 2600 block of Coronado Avenue near 27th Street, San Diego police said.
Helicopter video showed an overturned silver Ford Contour in the center of Coronado Avenue. The entire rear of the vehicle was cover with yellow tarps, indicating that a body remained in the vehicle.
A black four-door Toyota Camry with a smashed front end had come to rest partially on the sidewalk.
According to investigators, a 20-year-old woman was driving the Ford eastbound on Coronado Avenue when she crossed over into the westbound lanes and smashed into the Camry. The driver of the Ford died at the scene. A woman driving the Camry was taken to UCSD with minor injuries.
Police closed Coronado Avenue between 27th Street and Dearborn Drive during the investigation.