This is an archived article and the information in the article may be outdated. Please look at the time stamp on the story to see when it was last updated.
SAN DIEGO — San Diego police continued to search Thursday for the unidentified assailant responsible for a fiery four-day crime spree that has left two transient men dead, two others severely injured and put the local homeless community on alert.
On Wednesday, San Diego Police Chief Shelley Zimmerman told reporters that the series of early-morning attacks against the homeless — all believed to have been carried out by the same man — was her officers' highest priority.
"These evil acts of violence are some of the worst that I have seen in my 34 years in law enforcement," Zimmerman said. "This killer has targeted some of our city's most vulnerable citizens while they are asleep."
A 23-year-old man was gravely injured in the most recent attack, police said.
Witnesses told investigators someone was crouched over what they initially thought was a flaming pile of clothing in the area of Broadway and State Street shortly after 5 a.m. Wednesday. After realizing that it actually was a person on fire, a bystander pulled a burning towel off him, according to San Diego police Capt. David Nisleit.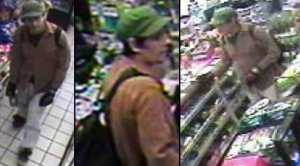 The body of the first victim, 53-year-old Angelo De Nardo of San Diego, was also set on fire. An autopsy determined that he had been killed prior to being set ablaze in an open area off Morena Boulevard in Bay Park about 8 a.m. Sunday. Witnesses to that attack told investigators they saw a man running across nearby Interstate 5, carrying a gas can.
Shortly before 5 a.m. the following day, 61-year-old Manuel Mason was found bleeding from wounds to his upper body near Valley View Casino Center in the Midway district. He was hospitalized in critical condition but was expected to survive, authorities said.
Less than 90 minutes later, 41-year-old Shawn Longley was found dead at a park on Bacon Street in Ocean Beach, about three miles from the scene of the second assault, according to police.
Authorities have declined to disclose the cause or causes of the victims' non-fire-related injuries.
Nisleit said "there is no doubt in our minds" that one man, images of whom were captured by surveillance cameras at a convenience store near where the first victim was found, is responsible for all four crimes.
In the video footage, the dark-haired suspect, who appears to be in his 20s or 30s, is wearing dark gloves, light-colored pants, a backpack, a brown long-sleeve shirt or jacket over a dark undershirt, and a green short-billed Greek fisherman-style cap.
The attacks prompted city officials to issue a warning to local homeless people to remain vigilant, avoid sleeping alone on the streets and stay in open, well-lit areas.
San Diego Mayor Kevin Faulconer said police officers were fanning out to make those in the transient community aware of the attacks and to keep them safe.
"These crimes against some of our city's most vulnerable people are absolutely reprehensible," Faulconer said. "SDPD is bringing all of its resources to bear to find the person responsible and seek justice for the victims."
Anyone who spots the suspect was urged to immediately call 911. Anyone with additional information about the suspect or any of the assaults was asked call police at (619) 531-2293. Anonymous tips can be submitted by calling Crime Stoppers at (888) 580-8477 or by contacting the agency via email at sdcrimestoppers.org.