This is an archived article and the information in the article may be outdated. Please look at the time stamp on the story to see when it was last updated.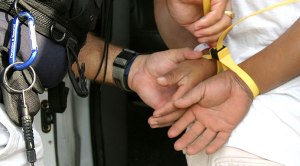 OCEANSIDE, Calif. – A 30-year-old man was arrested Thursday in connection with an apparently gang-related attempt on another man's life earlier this month that may be related to the slaying of a 21-year-old man, authorities said.
David Tua was arrested on suspicion of attempted murder and participation in a criminal street gang after police investigators, SWAT teams and law enforcement officers from assisting agencies simultaneously served search warrants to six locations in Oceanside at about 5 a.m., according to Oceanside police Lt. Aaron Doyle.
Tua was identified as a suspect in the attempted slaying of Randy Lozano in 600 block of Charles Street near Gold Drive during the early morning hours of Aug. 14, Doyle said.
Investigators received multiple corroborating leads that indicated the attempt on the man's life was somehow connected to the death of 21-year-old Louiegie Bermas, whose body was found about 5:30 a.m. that day on nearby Arthur Avenue, police officials said.
Detectives later declared Bermas' death a homicide. Doyle said that several other suspects have been identified, and the investigation would continue.
Two additional search warrants were served Thursday afternoon, based on developing information, he said.
The locations of the searches were withheld, as was the gang or gangs suspected to have been involved along with other information deemed to be critical to the case because the investigation was ongoing, Doyle said.