This is an archived article and the information in the article may be outdated. Please look at the time stamp on the story to see when it was last updated.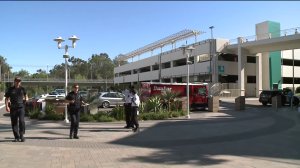 SAN DIEGO — Two thieves zapped an armored car guard with an electric stun gun at the Fashion Valley mall this afternoon and stole a money bag from him, authorities reported.
The victim suffered minor injuries during the robbery, which took place about 3 p.m., according to San Diego police.
The bandits fled the Friars Road shopping center in a silver or gray pickup truck, possibly a Toyota Tundra, SDPD public-affairs Officer Mark Herring said. Witnesses described them as Latinos in their mid-20s to mid-30s, one wearing a black hat and gray sweater, the other a blue shirt.
Officers recovered the emptied-out cash bag in the area, Officer Frank Cali said.