This is an archived article and the information in the article may be outdated. Please look at the time stamp on the story to see when it was last updated.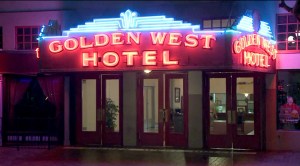 SAN DIEGO — An exchange of words between two men at a downtown San Diego hotel early Friday escalated when one of them pulled out a knife and stabbed the other in the torso, police said.
The stabbing at Golden West Hotel at 720 Fourth Ave. in the Gaslamp Quarter was reported at 12:28 a.m., according to San Diego police Officer Steve Rocha.
The victim, who is 46, was expected to survive, he said.
The attacker fled on foot. Police said he was wearing a beige shirt and shorts.