This is an archived article and the information in the article may be outdated. Please look at the time stamp on the story to see when it was last updated.
SAN DIEGO – A local artist bought an antique camera and found priceless World War I photos inside. Now, he's taking them on the road.
Anton Orlov has always loved the magic behind vintage photography and the story behind his new camera is a fairytale in itself.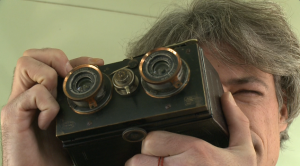 Orlov paid $100 for the 1901 Bellini Jumelle camera, but the pictures inside were the real treasure.
"I knew that I had to get it," Orlov said. "There was something guiding me towards it."
He found eight WWI images inside of it while he was cleaning.  Some of the photos show war-torn France and others show men in uniform who are holding what appears to be a bomb.
"It was incredible to me that developed images were in the camera," Orlov said.
Orlov said the glass plates sat in the camera for almost 100 years.
He's going to make prints and sell them eventually, but right now he's taking them on the road.
Orlov is taking his Photo Palace Bus to Portland, Oregon
He's using the mobile dark room and studio in celebration of the lost art form.
"You should honor history," Orlov said. "Honor the vision of artists and just be careful with your old stuff."