This is an archived article and the information in the article may be outdated. Please look at the time stamp on the story to see when it was last updated.
SAN DIEGO — People for the Ethical Treatment of Animals announced Tuesday that it has placed another anti-SeaWorld message at San Diego's airport.
The 20-foot-long banner is intended to discourage attendees arriving for this week's Comic-Con International convention from visiting SeaWorld San Diego while they're in town.
PETA has been demonstrating against the theme park for years, claiming that its killer whales are mistreated.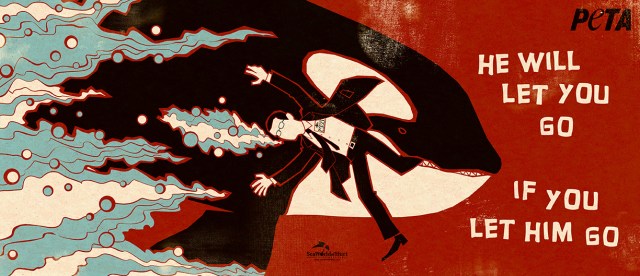 The $24,000 banner, placed near the baggage claim of Terminal 2 at Lindbergh Field, depicts an orca holding the foot of a man with its teeth. The man, wearing a suit and a "CEO" label, is supposed to represent the company's chief executive.
The banner, created by Bluewater Productions — a Vancouver, Wash., producer of comic books and graphic novels — includes the text: "He will let you go if you let him go. PETA."
"Comic-Con fans love blood and guts when they're fake, but at SeaWorld, it's all too real for comfort," Bluewater founder Darren Davis said. "The orcas are desperate to be free. That's why trainers have been killed, and that's what we're depicting in this campaign with PETA."
David Koontz of SeaWorld San Diego said the theme park has its own advertising at the airport, including wall murals and on baggage claim monitors in both terminals.
"Even by PETA's standards, this ad is as offensive as it is tasteless," Koontz said. "PETA isn't concerned with actually helping animals. They are a radical organization that continues to spend its money on publicity stunts like the profane Jason Biggs video and advertising campaigns like this for the sole purpose of promoting their agenda."
Koontz said the park's killer whales are "healthy and happy, and thrive in our care. The real animal welfare organization is SeaWorld, not PETA, and our trainers, aviculturists, animal-care staff and veterinarians are the true advocates for animals."
The public can get SeaWorld's point-of-view at www.seaworld.com/truth and www.seaworldcares.com, he said.
In May, PETA placed a wall poster in Terminal 2 in which actress and San Diego native Kathy Najimy urged visitors to avoid SeaWorld San Diego. The poster was placed at the airport after the animal rights organization successfully sued the airport.