This is an archived article and the information in the article may be outdated. Please look at the time stamp on the story to see when it was last updated.
SAN DIEGO – A new investigation involving a 6-year veteran officer of the San Diego Police Department is underway after a woman came forward accusing him of sexual misconduct while she was in his custody, police Chief William Lansdowne announced Wednesday evening.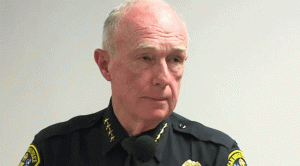 The alleged victim came forward after learning of the case against former Officer Christopher Hays, who is facing criminal charges related to groping women during pat-downs and demanding sexual favors from detained women, Lansdowne said. She told investigators that an officer exposed himself in front of her last year.
The alleged victim initially contended that the officer who groped her and exposed himself to her following her arrest on suspicion of auto theft last year was Hays, the chief said. She later changed her identification following questioning by detectives.
Lansdowne said he was prevented by law from identifying the new suspect, because the patrolman has not been charged with a crime. Lansdowne said the unnamed officer patrolled the South Bay Division and was suspended.
During the news conference, SDPD officials also announced a plan to require that two officers be present following the arrest of female suspects. The change, designed to preclude sexual improprieties by officers, should go into effect over the next several days, Mayer said.
Wednesday night's press conference was held just hours after Hays officially resigned from the police department.  Hays' attorney said he was leaving the force due to the lack of support from police department.
Hays, a former Marine and married father of two, served with the agency for four years before being arrested 10 days ago. His father-in-law is Assistant San Diego police Chief Mark Jones.
The charges against the ex-patrolman, who is free on $130,000 bail, involve four women he allegedly victimized between October and December of last year, according to District Attorney Bonnie Dumanis. Several of them claim that he groped them during searches, and one told investigators he forced her to perform a sex act in the back of his patrol car.
Three other women also have come forward and accused Hays of similar illegal acts. Those allegations remain under review, Dumanis said.
Mayor-elect Kevin Faulconer released a statement in response to recent developments in the police department:
"Ensuring confidence and trust in the San Diego Police Department is my top priority. San Diegans will see that this is the immediate focus of my administration when I take office."