This is an archived article and the information in the article may be outdated. Please look at the time stamp on the story to see when it was last updated.
 SAN DIEGO – A homeless man suffered life-threatening injuries in downtown San Diego Wednesday morning in what police say is the fourth in a series of grisly attacks that has already left two homeless men dead and another severely injured.
Arson investigators were dispatched to 900 block of  State Street around 5 a.m. They found a man with significant injuries to his upper body. When the victim was first found, he was covered with a burning towel, but a witness removed it, police said.  Police told FOX 5 they don't expect the victim to survive his injuries.
Investigators said they were interviewing several witnesses and looking at video from area surveillance cameras.
The assailant is described as a white man, mid-30s, with a thin build and wearing a dark hoodie and dark jeans. Police said  he is the same person who has attacked three other homeless men in their sleep since Sunday.
"We are absolutely convinced these cases are linked, and we will continue to work them as a series," San Diego police Capt. David Nisleit told reporters.
Nisleit said the department is working around the clock to identify and apprehend the man responsible for the attacks. He called on the public to help find the criminal.
"This is a priority for the San Diego Police Department and a priority for this city. We need to located this person who is now  responsible for four attacks," Nisleit said. "If you see this person or you know who this person is, please call the San Diego Police Department immediately. Call 911. Do not approach this person. We consider him extremely dangerous."
Read More: 3 grisly attacks on homeless that left 2 dead, 1 injured are connected
Firefighters battling a blaze near Interstate 5 found the victim of the first attack early Sunday.
Arson investigators, police officers and the California Highway Patrol were called just after 8 a.m. to under the elevated ramps at Interstate 5 at Clairemont Drive, near Mission Bay Park, according to San Diego Fire-Rescue Department spokesman Lee Swanson.
It took firefighters only a few minutes to put out the 6-foot by 6-foot fire before they discovered the burnt body of 53-year-old Angelo De Nardo of San Diego, Swanson said. Officers aren't sure if the man was already dead at the time or if he suffered any additional trauma.
"He is so badly burned, we can't tell. We're going to have to wait for an autopsy for any additional information," said Lt. Manny Deltoro.
Witnesses told firefighters and police they saw a white man in his 40s to 50s running across the freeway lanes, from the railroad tracks area towards Mission Bay, carrying a gas can. He was described as wearing a brown coat, green Army hat and tan khaki pants.
"There's nothing to indicate there was a homeless camp. No tents, etc. But there is some debris to show it is an area that would have been frequented by individuals but we can't tell you if the man is homeless at this time," said Lt. Deltoro.
Surveillance cameras at a convenience store near the scene captured grainy images of a man who has since been named a person of interest in the case.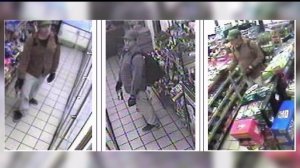 "This person is only a person of interest at this time," said Captain Nisleit.  "Based on our evidence and based on the investigation as we are working through all three of these cases, we do believe all three of these cases are linked and one person is responsible for these two homicides and attack."
A second homeless man was found slashed and bleeding by police early Monday in the 3700 block of Greenwood Street. He was transported to the hospital and his injuries to the upper torso were said to be life-threatening.
Also Monday, the body of a third man who was viciously attacked was discovered in Ocean Beach.
An early-morning park-goer flagged down an officer near Robb Field on West Point Loma Boulevard around 6 a.m. The officer then found the man, believed to be in his 50s or 60s, not breathing and with "a lot of trauma" to his upper body.
It appeared that the man may have been homeless, and was sleeping when he was attacked, police said.
"We have a person out there attacking victims that were sleeping. They weren't doing anything wrong," Capt. Nisleit said. "This is obviously a very dangerous person. A person we want to remove from the community as fast as we can, so we are asking for the public's help."
Authorities urged area transients to remain vigilant, avoid sleeping alone on the streets and to stay in open, well lit areas.
Anyone with information is asked to call San Diego police at 619-531-2346 or Crime Stoppers at 888-580-8477.