This is an archived article and the information in the article may be outdated. Please look at the time stamp on the story to see when it was last updated.
SAN DIEGO — A second city of San Diego employee accused Bob Filner of sexual harassment Thursday, saying the mayor asked her for a date and put her in a headlock at a city event.
The woman, identified only as Stacy, told KOGO radio  she has worked for the city of San Diego for 32 years. She said she was at a function at the end of April with two staffers who wear uniforms and badges.  She said she introduced herself to the mayor, and he continued to stare at her while he was being interviewed by a student.
"He kept looking over at me, not just a stare it was a leer," Stacy said.  "It was very uncomfortable."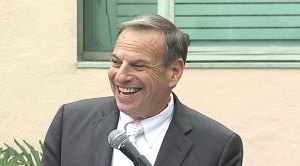 She said the mayor asked her if she ever went to lunch with her boss.  She said he then grabbed her hands and held them tightly.
"He said, 'Well, I just want to make this clear, I'm not asking you out on a business lunch, I'm asking you out on a date,'" she said.
Stacy said she walked away, but Filner soon followed.
"'With his right arm, he put it around my neck and I called it, at that point, a 'choke hold,'" she said. "I know it's the Filner headlock, and with his left arm he put It around my left arm and he clamped it down."
She said all of this happened in front of the two city staffers.
"He said (to the staffers), 'I'm going to be mentoring her and I'm thinking of making her employee of the day. What do you think?'" she said. "He said, 'Just to let you guys know, I like to get really close to my city employees.'"
For the next few weeks, she didn't answer her phone because she was afraid Filner would call.  She avoided downtown and didn't want to tell anyone.
"He just is capable of anything," Stacy told KOGO hosts Chip Franklin and LaDona Harvey. "He holds a grudge."
She said she is still concerned about her job but she wants to encourage others to come forward.
"It's not our fault," she said. "We don't need to be afraid. I'm not afraid anymore."
She said she filed two complaints against Filner with the city and is awaiting their resolution.