This is an archived article and the information in the article may be outdated. Please look at the time stamp on the story to see when it was last updated.
SAN DIEGO — The San Diego Housing Commission, which administers homeless programs for the city, announced Friday that it has received 177 vouchers from the federal government to provide rental assistance for homeless veterans.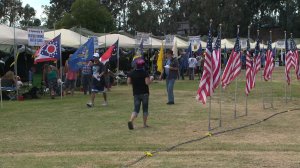 The program also includes case management and clinical health services.
"This means 177 veterans will now have a place to call home," said City Council President Todd Gloria, who took part in a news conference with a group of veterans in attendance. "You have given your all to us, and now it's our time to give something back to you."
The announcement was made on the first day of the 27th annual National Stand Down, in which homeless veterans are provided with services like showers, medical check-ups, clothes and legal services. Generally, 800-900 veterans are served each year.
Saturday, the co-founder of Stand Down, Dr. Jon Nachison, will be honored by San Diego Mayor Kevin Faulconer, Rep. Susan Davis, D-San Diego, and Marine Brigadier Gen. James W. Bierman Jr.
Stand Down has gone national since its founding in 1988, with more than 200 around the country.