This is an archived article and the information in the article may be outdated. Please look at the time stamp on the story to see when it was last updated.
SAN DIEGO – Hundreds of San Diegans starred alongside Will Ferrell in Friday's filming of Anchorman 2: The Legend Continues.
Production crews took over parts of SeaWorld, where Ferrell, starring as Ron Burgundy, was shooting scenes for the sequel.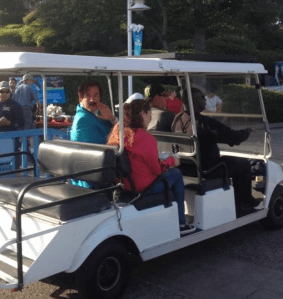 Media members weren't allowed on SeaWorld property, but Fox 5 did get a behind-the-scenes look at the movie from fans inside the park. Shortly after filming got underway, they were posting photos to social media sites like Twitter and Instagram.
During a recent casting call in Mission Valley, hundreds of locals were chosen as extras for the movie. Friday they spent much of the day shooting scenes at SeaWorld's dolphin stadium.
Corey Wilcox, an extra, said the experience was well worth the long day.
"I think the most exciting thing for me," said Wilcox. "Is just to see how they put it all together and do the final edit of the movie. They did a lot of takes of stuff and it will be interesting to just see the final flow of the movie."
Seeing Will Ferrell at work was a major highlight for the fans.
"He was absolutely hilarious," said Wilcox. "You could tell he was sticking to his lines at some parts, but he was definitely improvising a lot of what he did today. So it was really incredible to see him work."
SeaWorld visitors also got a chance to see some of the action from the sidelines. Michelle St. Marie and a group of her friends arrived early to see as much as possible.
"We got there at 10 am," said St. Marie. "And we got to see Will Ferrell read his lines which was really, really cool. And we saw all the extras sitting in the stands."
St. Marie said the crowd was very energetic and Ferrell seemed to be enjoying the shoot.
"He was really nice," said Ferrell. "Whenever the crowd had to say their line and they would yell 'cut' he would be like you guys are doing such a good job. I'm so glad you guys could come."
The movie is scheduled to hit theatres in December.