This is an archived article and the information in the article may be outdated. Please look at the time stamp on the story to see when it was last updated.
SAN DIEGO — Eric McElvenny had a simple reason to train for the Ironman Triathlon.
"What I had to do was figure out what my new normal was and get used to it. And I did," McElvenny said.
But you can't really use the word normal to describe McElvenny.
Normal wouldn't describe someone who volunteers for a tour of duty in Afghanistan, loses a leg below the knee after stepping on an I-E-D during patrol and used an Ironman as motivation to recover from his injury.
"I think when I was injured, I had to come up with something big," McElvenny said. "There's an obstacle, there's a challenge and I wanted to overcome it, and I wanted to do it in a big way."
After suffering the injury in December of 2011, the Camp Pendleton Marine Captain went to work.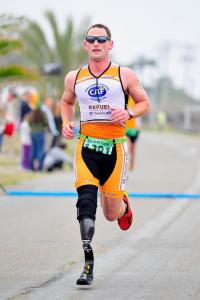 He said he stood on his first prosthesis two months later, competed in his first sprint triathlon eight months later, and ran his first marathon 10 months later.
Working with the Challenged Athletes Foundation, McElvenny received prosthesis to help him every step of the way.
His hard work then earned him a spot onto the Refuel Team to train for Saturday's Kona Iron Man with former Pittsburgh Steelers wide receiver Hines Ward.
"I'm from the Pittsburgh area so I grew up watching him and cheering for him as a football player," McElvenny said. "I've always loved him because he's a hard worker, very aggressive, fun to watch, always smiling. And now getting to know him has been amazing."
"When times are going rough, I look over at him and see the same pain on his face," Ward said. "If he's not going to give up, then I can't either."
McElvenny says he went to the Naval Academy to play baseball, and eventually picked up Rugby, but the husband and father or two admits he never put endurance sports on his radar.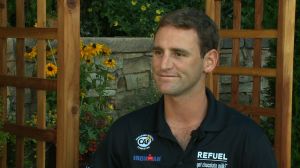 "I probably would never have gotten around to running an Iron Man, or even a triathlon," McElvenny said.  "This whole journey has been really neat. Once I did start working towards my goal, I have inspired people. I'll be running down the road and someone will stop and say, hey, what you're doing is amazing. I wouldn't have got that if I had two legs."
"I've had people come up to me and tell me that because they see me out there running, or because they see what I'm doing, they're getting out and more active. And that makes me feel very good."