This is an archived article and the information in the article may be outdated. Please look at the time stamp on the story to see when it was last updated.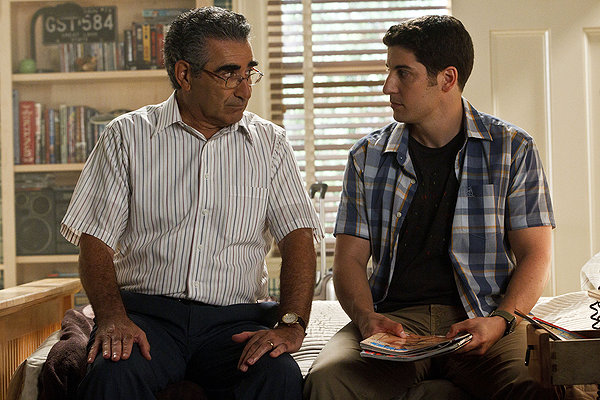 I remember seeing the first American Pie back in 1999. It was an okay comedy. I was amazed when 30 seconds before doing the on-air review for this movie, the cameramen were telling me about how many of these films have been released (I believe a few were straight-to-video).
I was expecting the worst when attending the screening. Especially since I was one of the few that didn't think 21 Jump Street was very good. And I hated Hangover 2, since it not only had few laughs, it recycled the jokes from the previous film. I am happy to report that…no pies were hurt during the filming of this movie. I can't say the same for the socks.
Since these movies are all about the sex and craziness, it was kind of lame for them to attempt all these subplots that fell flat. And am I the only one that thought the scenes with the girl Jason Biggs babysat to be creepy? Yes, she's attractive and doesn't look like a teenager, but surely he remembers when she was really young. How could he be attracted to somebody he once took care of?
And more bad relationships and bad jobs weren't needed as filler. We want to see Stifler (Seann William Scott) destroying jet skis, coolers, and creating mischief. He and Eugene Levy were so hysterical in this movie they made it worth watching.
We've always known Levy was funny, but Seann William Scott is a comedic genius. He reminds me of Jim Carey with all the crazy facial expressions. How can you not laugh at the juvenile way he's giggling on top of a beer cooler?
(I also can't stop recommending The Promotion from a few years ago).
The jokes are all very predictable. I'm guessing this won't bother the crowd going to see it.
It was fun that they got the entire cast to reunite, especially since that means Tara Reid got a job. Her, Mena Suvari, and Jennifer Coolidge all look rather scary (and made it even funnier when I heard a syndicated critic on the radio say that no other town would have so many super-model looking women). Coolidge has her sights set on Levy this time, and they give us two of the funniest scenes. One involves eye brows being shaved, the other involves movie theatre popcorn being put to good use.
There are plenty of jokes that don't work, or just made me cringe. One of those involved Stifler in a bathroom with a heavyset woman. Nothing about the scene worked.
There were a lot of lines that worked well. One that comes to mind is a woman telling her male friend "Be a man! You have a beard now."
We get a "close up" of Biggs trying to cover himself up unsuccessfully. Showing that part of the anatomy was funny in Step Brothers, Bruno, and this.
I thought Project X was funnier, and a few reunion movies come to mind that are better.
I can't believe I'm giving this 3 out of 5 stars, but it earned it.