This is an archived article and the information in the article may be outdated. Please look at the time stamp on the story to see when it was last updated.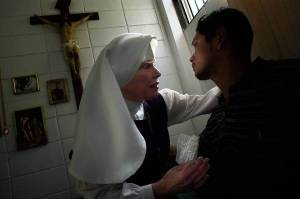 SAN DIEGO — Sister Antonia Brenner, a Beverly Hills-raised mother of seven who became a Roman Catholic nun and moved into a Tijuana prison where she spent more than three decades ministering to inmates, has died. She was 86.
Brenner, who had been in declining health, died Thursday of natural causes at the home of her religious order in Tijuana, where her fellow sisters had cared for her in her final days, Christina Brenner, her daughter-in-law, told the Los Angeles Times.
She was born Mary Clarke in Los Angeles on Dec. 1, 1926, to Irish immigrant parents. Her father grew wealthy running an office supply business, and the family counted Hollywood stars such as Cary Grant among their neighbors.
Brenner married and raised four daughters and three sons, all the while becoming deeply involved in charity work, The Times reported.
In 1977, after her children were grown and two marriages had ended in divorce — a source of sadness she rarely talked about — Brenner gave away her belongings, left her Ventura apartment and moved to La Mesa penitentiary, according to the newspaper. She had delivered donations in the past to the prison, each visit filling her with compassion.
"Something happened to me when I saw men behind bars. … When I left, I thought a lot about the men. When it was cold, I wondered if the men were warm; when it was raining, if they had shelter," Brenner told The Times in a 1982 interview.
"I wondered if they had medicine and how their families were doing. …You know, when I returned to the prison to live, I felt as if I'd come home."
Brenner cut a strikingly serene presence in the overcrowded prison of 8,000. She lived as any other inmate, sleeping in a 10-by-10-foot cell, eating the same food and lining up for morning roll call, according to The Times. She would walk freely among thieves, drug traffickers and murderers, smiling, touching cheeks and offering prayers.
Guards and inmates alike started referring to her as the prison angel. In the cellblocks she was known simply as "Mama."
Brenner is survived by her seven children.
Read more at latimes.com.