This is an archived article and the information in the article may be outdated. Please look at the time stamp on the story to see when it was last updated.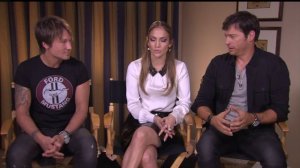 LOS ANGELES — America has voted. The Top 13 contestants of American Idol were named Thursday night in Los Angeles during the live results episode show.
Each of the 20 contestants were hoping to take the coveted spots, but seven were cut this week.
The Top 13 finalists are:
1) Caleb Johnson
2) Malaya Watson
3) Emily Piriz
4) Dexter Roberts
5) Sam Woolfe
6) Ben Briley
7) MK Noblette
8) CJ Harris
9) Jessica Meuse
10) Alex Preston
11) Jena Irene
12) Kristen O'Connor
13) Majesty Rose
"I'm so happy, so happy," said contestant Kristen O'Connor.  "I feel ready.  This is a moment I've been dreaming of my entire life, so I'm ready."
"Every week, I'm gonna give you something that's surprising that you wouldn't think I would do," said Tennessee contestant, Ben Briley.
Ten contestants were chosen by viewer voter, but three were selected by the judges and had to each perform a song hoping to stay in the competition. After the one hour reveal show, the judges and contestants celebrated at Fig & Olive in West Hollywood.
"Jena Irene, I was really impressed with her," Randy Jackson told Fox 5 News on the red carpet.  "With her Tori Amos rendition of that song.  I was really impressed."
"They all deserve to be in the Top 13," Harry Connick, Jr told Fox 5.  "They come in and display that kind of talent, and sometimes it's underdeveloped and very young and innocent talent.  That's a real pleasant surprise."
The 13 contestants were greeted by the flashing lenses of media from all over the country.  They posed for pictures and took questions from reporters.
"I'm learning that if I work at something I can actually do it.  I didn't think I could have as much energy on stage and be totally confident," said contestant Majesty Rose. "But look at me now.  I'm in front of millions of people and I'm doing my thing."
As the show continues, each week a contestant will be eliminated until there's only one American Idol.
"They are gonna have to step it up, if you ask me," Jennifer Lopez told Fox 5.  "I want them to come to the table with what they are really capable of and throw off the nerves from the lights and the cameras and the audience."
"Yeah, I think you get a few passes for nerves," chimed in Keith Urban.  "But then you gotta step it up."