This is an archived article and the information in the article may be outdated. Please look at the time stamp on the story to see when it was last updated.
SAN DIEGO – The American Idol Top 13 hit the stage, each one hoping to be the last one standing in May.  This week the finalists had the chance to strut their stuff and showcase their unique voices and style. From singing Darius Rucker to Pink, the contestants each chose their own songs and are now relying on America to vote.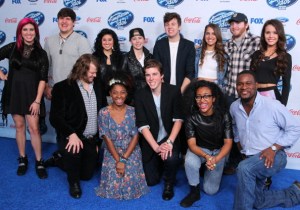 Fox 5's Juliette Vara sat down with two of the contestants, CJ Harris and Emily Piriz.  Harris is from a small town in Alabama and Piriz is from South Florida with Cuban roots.
Harris wooed the crowd with his smile and his choice of song, "Radio" by Darius Rucker.
"Being from a small town, you can live in Las Vegas or Hollywood and it can be a distraction," said Harris.  "Being from a small town there's not much to do but play music."
Idol introduced a new way people can vote including a dedicated toll-free number for each contestant that will be uniquely theirs the entire season.
Piriz sparkled in a beautiful dress and sang "Glitter in the Air" by Pink.
"I have the worst road rage.  I hate driving in traffic," laughed Piriz.  "I'm a sweet girl, but I can get feisty don't make me mad."