This is an archived article and the information in the article may be outdated. Please look at the time stamp on the story to see when it was last updated.
BOULEVARD, Calif. — A search was underway Tuesday for a man suspected of kidnapping at least one of two missing children, killing their mother and setting fire to a home in Boulevard, where the woman's body was found, along with that of an unidentified child.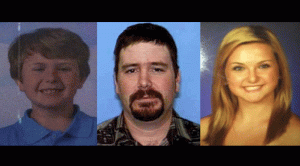 Hannah Anderson, 16, and Ethan Anderson, 8, may have been taken by James Lee DiMaggio, 40, who is believed to have been in a "close platonic r
elationship" with their mother, 44-year-old Christina Anderson of Lakeside, according to the San Diego County Sheriff's Department.
Anderson's body and a dead dog were found as fire crews were extinguishing the blaze at DiMaggio's home and detached garage at 2071 Ross Ave. shortly after 8 p.m. Sunday, sheriff's Lt. Glenn Giannantonio said. The body of a child was also found as crews searched through the rubble of one of the burned buildings, he said.
Investigators determined that Anderson was the victim of homicide, Giannantonio said without elaboration. How the child died was not immediately determined, he said.
"We believe he murdered Anderson, and we believe that he set the structure on fire," Giannantonio told reporters Monday night.
A statewide amber alert was issued after the disappearance of Hannah and Ethan Anderson. Investigators believe one or both of them were abducted by DiMaggio, who may be driving a 2013 blue Nissan Versa, California license plate 6WCU986. The suspect is believed to be travelling to either Texas or Canada, according to the alert.
DiMaggio is 5 feet 9, 150 pounds, with brown hair and brown eyes. Hannah is 5 feet 7, 115 pounds, with blond hair, blue eyes, a belly button ring, nose stud and pierced ears. Ethan is 4 feet 11, 64 pounds, with sandy blond hair. All three are white.
Anyone with information on the whereabouts of the children or suspect should call the San Diego Sheriff's Department at 858-565-5200, or Crime Stoppers at 888-580-8477.