This is an archived article and the information in the article may be outdated. Please look at the time stamp on the story to see when it was last updated.
ESCONDIDO, Calif. – An allegedly drunken Escondido man fell asleep at the wheel of a pickup truck in a fast food drive-thru Saturday, ran from police and fought them as he was arrested, a police captain said.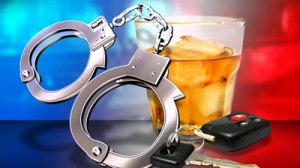 Police were called at about 8:30 a.m. Saturday to report the sleeping man in the truck blocking the drive-thru driveway near West Mission Avenue at Escondido Boulevard, Escondido police Capt. Michael Loarie said.
Officers arrived and spotted the man, later identified by police as Carlos Santiago, 22, in the truck's driver's seat and tried to wake him up, Loarie said.
The truck's motor was running and all its doors locked, the captain said.
Officers were able to get a door open, and as they did Santiago awoke, Loarie said.
Loarie said officers suspected him of being under the influence of alcohol and had him exit the truck.
At first he was cooperative, but allegedly gave the officers a fake name and did not have identification.
Santiago allegedly failed a field sobriety test and was told he was under arrest.
Loarie said he appeared as if he was going to cooperate, but then quickly stepped away and broke free of the officers and ran.
But, he didn't get very far.
Two officers and a police sergeant tackled him a short distance away, but once on the ground Santiago allegedly tried to strike them with his arms and elbows.
He was eventually handcuffed, but kept fighting until additional officers arrived and were able to subdue him, Loarie said.
The sergeant and two officers initially involved in the arrest sustained minor cuts and scrapes to their arms during the arrest, but did not require medical attention, Loarie said.
Santiago was taken to a hospital to be treated for minor cuts and scrapes, then was to be booked into the Vista Detention Facility for suspicion of resisting arrest with threats to officers, drunken driving, providing a false name to officers.
Police said the federal government would place an immigration hold on Santiago, pending possible court action on immigration charges.