This is an archived article and the information in the article may be outdated. Please look at the time stamp on the story to see when it was last updated.
SAN FRANCISCO — All 307 passengers aboard the Asiana jetliner that crash-landed Saturday at San Francisco International Airport have now been accounted for, officials said.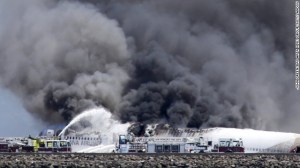 The 11:30 a.m. crash of the jetliner left two dead and scores injured. Sixty people aboard the airliner that had initially been described as "unaccounted for" have now been located, officials said.
"This could have been much worse," Mayor Ed Lee said at an evening news conference. "We're lucky we have so many survivors. But we still have many who are injured and our prayers and thoughts go out to them."
Asiana Airlines flight 214 originated in Shanghai and stopped in Seoul before heading to San Francisco.
The jetliner caught fire when it hit the tarmac, causing huge plumes of black smoke to billow into the sky. Many passengers were able to get out of the aircraft before it was consumed by flames.
Federal investigators were trying to determine what went wrong. But a source involved in the investigation said the plane appeared to have clipped a sea wall while landing.
Mechanical difficulties have not been ruled out, but investigators are focused on whether the flight came in too low, according to sources familiar with the investigation who spoke on condition of anonymity.
The plane appeared to hit the sea wall dividing the airport runway from San Francisco Bay, possibly causing the tail to come apart.