This is an archived article and the information in the article may be outdated. Please look at the time stamp on the story to see when it was last updated.
OCEANSIDE, Calif. – The party may be over for the passengers who enjoy drinking on Coaster trains as the North County Transit District plans to discuss banning alcohol on the popular train route.
"Rowdy" behavior has the NCTD rethinking their alcohol policy.  The constant complaints, trash left behind, slippery floors covered in booze have turned the ride into a public safety issue, according to NCTD Chief of Transit Enforcement Tom Zoll.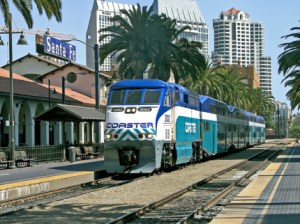 "We had issues with the conductors not being able to hear their radios because the noise level is so loud," said Zoll. "It's very similar to having a large party at somebody's house and the aftermath of that."
"I used to take the Coaster down to Padres games and it would get a little rowdy," said Sarah Johnson, who uses the trains for work.
Johnson said she used to take the Coaster downtown for concerts and sporting events, but since she's became a mother her opinion about drinking on the trains has changed.
"I'm sort of against banning everything in general, but I think people should have to control themselves," Johnson said. "If I was taking my kids and people were swearing and acting too drunk, it would bother me."
A less restrictive ban was instituted in 2009 forbidding alcohol after 9 p.m. to address similar issues, but enforcement proved too difficult.
If NCTD decides to completely ban alcohol on trains, the new rules will start with a grace period for education, then issue a warning, followed by a citation.
"This is not about right or wrong with alcohol. This is about safety," said Zoll. "The thing about the Coaster is you get off the Coaster and you go to your car and you have to drive away."
The NCTD wants to hear from the public about this issue. Comments can be submitted through email at publiccomment@nctd.org or by phone 760-435-7274 prior to the November 21 hearing.
The meeting of the Board of Directors is Thursday, November 21 at 2 p.m. at 810 Mission Avenue in Oceanside.