This is an archived article and the information in the article may be outdated. Please look at the time stamp on the story to see when it was last updated.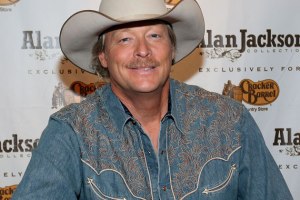 NASHVILLE-It's a first for Alan Jackson; a bluegrass record.  Yup, the country star is bringing it back to the ole' days with his tribute to Charley Pride.  His new album titled The Bluegrass Album says enough.   Jackson secured a great lineup of musicians to record 14 songs-including Darius Rucker and Trace Adkins.
Jackson says he's been trying to do a bluegrass record for many years, and now was the right time.  Fair to say, he's claimed his stake in country music and I bet the man can do anything he wants and fans will still love it.
What I love about this is that people are going to get to experience another level of country music.  We have so many new country music fans that are attracted to the new, pop version of country music–that I think they'll get a taste of some good old fashioned bluegrass.  With Alan Jackson belting out the tunes and backing the album, people will surely listen and it'll get plays on the radio.
"I just wanted to make for me," said Jackson.  "To show my appreciation for bluegrass.  It's one of the last real American music genres where it's real songwriting, singers, and harmonies."
And the storytelling behind the songs is what I love best, and as a journalist it's what I'm attracted to, to be honest.  I can sit and listen to a country song and actually visualize a story with a main character. I can see the images and scenes and feelings unfold in a real, honest way.  That's what I love about country music, and I'm excited to see how this album turns out!