This is an archived article and the information in the article may be outdated. Please look at the time stamp on the story to see when it was last updated.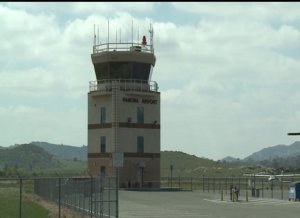 SAN DIEGO — Airport traffic control towers that had been targeted for closure due to federal budget cuts, including two in San Diego County, will remain open, thanks to funding the Federal Aviation Administration received to end employee furloughs, according to U.S. Transportation Secretary Ray LaHood.
A total of 149 contract airport towers across the country were expected to be closed beginning last month, although the closures were pushed back until June.
In Southern California, towers at Brown Field in San Diego, Ramona Airport, Riverside Municipal Airport, Whiteman Airport in Pacoima, Fullerton Municipal Airport and Gen. William J. Fox Airfield in Lancaster were expected to be closed.
San Diego County Supervisor Dianne Jacob fought the closure of the Ramona tower, since that's where firefighting aircraft are based.
"The decision to keep the Ramona Airport tower open for now is a step in the right direction, but the federal government needs to come up with a long- term budget fix," Jacob said.
"Closing the Ramona tower at the end of September would endanger our region when we need the air traffic facility the most," Jacob said. "Many of San Diego County's biggest and deadliest wildfires, including the 2003 and 2007 firestorms, have started in our backcountry in the fall."
According to a statement from the U.S. Department of Transportation, funds that were recently included in the Reducing Flight Delays Act of 2013 will "allow the FAA to transfer sufficient funds to end employee furloughs and keep the 149 low-activity contract towers originally slated for closure in June open for the remainder of the fiscal year 2013."
In early March, the FAA proposed to close nearly 200 towers as part of its plan to meet the $637 million in cuts required under budget sequestration. The federal agency said it was targeting towers at airports with less than 150,000 takeoffs and landings and less than 10,000 commercial flights a year.
Congress recently approved additional funding for the FAA after furloughs of air traffic controllers led to flight delays across the country.