This is an archived article and the information in the article may be outdated. Please look at the time stamp on the story to see when it was last updated.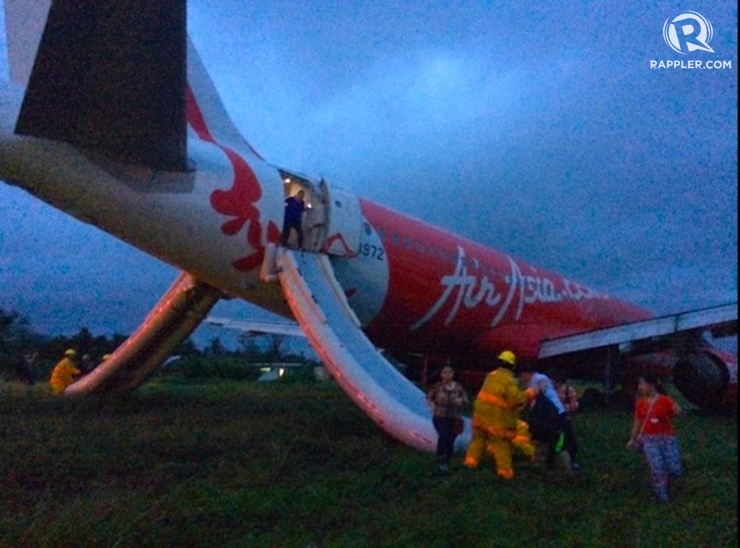 MANILA, Philippines –  Philippine officials said Tuesday an AirAsia Zest plane with 159 passengers and crew members overshot a runway in a central province after landing in windy weather from Manila.
Crew members launched emergency slides to help passengers disembark from the Airbus A320-200 after it skidded off the runway in the resort town of Kalibo in Aklan province before nightfall, Giovanni Hontomin, who is in charge of AirAsia Zest's operations, said by phone, FOX News reported.
There were no immediate reports of injuries and the plane remained stuck on a grassy area near the runway's end.
The incident came after the crash of an AirAsia plane that disappeared over the Java Sea on Sunday on a flight from Indonesia to Singapore with 162 people on board. Bloated bodies and debris were seen floating in Indonesian waters Tuesday.
Domestic carrier AirAsia Zest is partly owned by AirAsia Philippines.
Elderly passengers of AirAsia flight that overshot runway at Kalibo getting blood pressure checked pic.twitter.com/Lyr15BzSMX

— Jet Damazo-Santos (@jetdsantos) December 30, 2014
Shoe-less AirAsia flight attendants on the windy, cold tarmac in Kalibo. Can't wear heels when sliding down. pic.twitter.com/PZNTXgLirc

— Jet Damazo-Santos (@jetdsantos) December 30, 2014
Engine was shut immediately, we were told to leave bags, deplane asap. Firetruck was waiting. Seems handled well. pic.twitter.com/fjY0idESNM

— Jet Damazo-Santos (@jetdsantos) December 30, 2014
Had to deplane using emergency slide pic.twitter.com/tNg3rzEbPT

— Jet Damazo-Santos (@jetdsantos) December 30, 2014
Just in: @AirAsiaPH plane overshoots Kalibo runway http://t.co/OdKxnNfJqm pic.twitter.com/UWCenOeppM

— Rappler (@rapplerdotcom) December 30, 2014
RELATED STORIES: