This is an archived article and the information in the article may be outdated. Please look at the time stamp on the story to see when it was last updated.
SAN DIEGO – Three water main breaks caused problems for residents across San Diego County Tuesday.
Roads were shut down, sink holes popped up and residents were temporarily without water and plumbing in North Park, El Cajon and La Mesa.
A La Mesa street buckled as water logged asphalt crumbled around 1 a.m. Tuesday, according to the Helix Water District. Neighbors on the 8500 block of Butte Street splashed through six inches of water to get to their cars.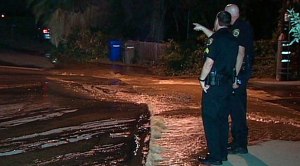 The Helix Water District said the main was repaired around noon and full service to residents was restored by 2:30 p.m.
Another main burst in El Cajon around 5:30 a.m. on Ridge Hill Road near Lake Jennings Park Road.
The 16-inch line forced water through the asphalt and caused a 16-foot by 36-foot sink hole.
Traffic was diverted while the road was shut down. By 5 p.m., water was restored, but repair work was still being completed.
In North Park, a 61-year-old, 6-inch iron water main break forced the closure of 2400 block of Commonwealth Avenue around 10:30 a.m., according to the San Diego Water Department.  It left several dozen residences without functional plumbing.
"We've been seeing quite a few water main breaks throughout the last few years, as these cast iron pipes have gone on past their life expectancy," said Arian Collins of the San Diego Water Department. "We've been trying to replace them as fast as we can but it's a very expensive and time consuming process."
Crews were able to shut down the main within an hour, but repairing the pipe and the soggy road took all day, Collins said.  The water was restored at 6 p.m.
The San Diego Water Department said replacing all the old pipes in the district will cost millions of dollars and they hope to have them completed by 2017.