This is an archived article and the information in the article may be outdated. Please look at the time stamp on the story to see when it was last updated.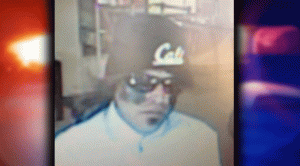 SAN DIEGO – Federal agents are asking the public to help identify an armed man who robbed an El Cajon credit union Tuesday.
A man jumped on top of a teller counter and started shouting at employees at the California Coast Credit Union at Jackman Street and Fletcher Parkway in El Cajon around 5 p.m., a witness told San Diego FBI.
"The robber pointed what appeared to be a semi-automatic pistol at bank employees and repeatedly threatened them with th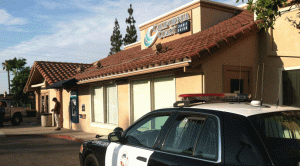 e weapon," FBI special agent Darrell Foxworth said. "The tellers fearing for their safety and the safety of others complied with the robber's demands and provided him with money."
The robber filled his bag with money and exited the bank, Foxworth said. At some point during the robbery, the suspect fired his weapon, but no one was injured.
Foxworth described the suspect has a man in his 30s with a dark complexion weighing 180 to 200 pounds.  He was about 5-feet, 7-inches tall and wore a dark knit cap, sunglasses, dark pants and a gray flannel shirt with tattoos on cheek.
The suspect was last seen as a passenger in a dark green Ford Explorer or Expedition SUV. Information about the driver was unknown.