This is an archived article and the information in the article may be outdated. Please look at the time stamp on the story to see when it was last updated.
SAN DIEGO — Blessing Makwera's scars tell the story of a terrible accident he suffered outside of his home in Zimbabwe. The 20-year-old man has come to San Diego for a complex series of surgeries to repair his face, tongue and jaw.
"Blessing was coming home from school one day and a friend handed him a detonator that he found in the dirt. Being the inquisitive kid he is, he took the detonator, connected it to an old cell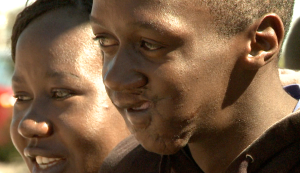 phone thinking it might get better reception. He then put it in his mouth to free up his hands and the detonator exploded," said Jennifer Trubenbach, president of Operation of Hope, a group of Doctors traveling to third world countries, offering life changing surgeries.
The freak accident happened in 2007.
"He lost most of his teeth, jaw and tongue," Trubenbach said.
Doctors in Zimbabwe did what they could to repair the the destruction to his mouth and jaw, but half of his face remains grotesquely deformed.
One day, Blessing heard that doctors with Operation of Hope were visiting Zimbabwe.
"I went, I met them and asked if they could help me," said Makwera.
The young man required complex surgeries and procedures not available in his homeland. When the call for help went out, doctors at San Diego's Sharp Memorial Hospital were the first to say yes.
"We're blessed in this country to have the resources to be able to offer this," said Dr. Joel Berger. one of many doctors donating their time for  the $1 million operation.
"We will be taking bone from his hip to rebuild his jaw, then giving him new teeth. He'll be able to chew, eat and smile," Berger said.
Doctors say the surgery will take place in three phases over a seven months.
On Thursday, Makwera spent time at the San Diego Zoo while waiting for his first surgery on Saturday. He said he's thankful for the help he is getting and dreams of becoming a reconstructive surgeon so that one day he can help others.
"I hope I'll be able to do this for someone who's less privileged," said the young African man.
Since the accident 5 years ago, Blessing's diet has been based mainly on water soaked beans and tea. He said he looks forward to being able to chew again after his surgeries.
"I want carrots," said Makwera.