This is an archived article and the information in the article may be outdated. Please look at the time stamp on the story to see when it was last updated.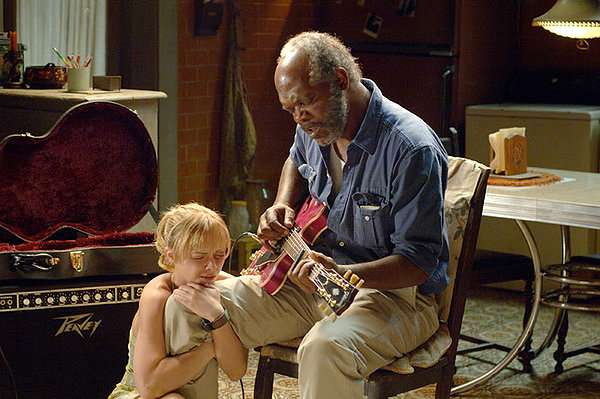 I was disappointed in the movie Thanks for Sharing, although I thought singer Pink was good in her role. At one point she changes the words to Kumbaya by a bon fire with Josh Gad. That got me thinking about movies where actors break into song. I'm not talking about movies like Walk the Line, Ray, La Bamba, or The Buddy Holly Story. Those are biopics about singers. And obviously, musicals often have actors singing. Anne Hathaway tore it up in the disappointing Les Miserables. Tom Cruise sounded okay in the horrible Rock of Ages, and Woody Allen got a lot of charming mileage having actors that couldn't sing all that well in Everyone Says I Love You (Drew Barrymore is the only one who refused to sing; she lip synched).
I thought I'd compile a list of my favorite moments when actors sing in a movie. In no particular order, here are my Top 25.
—      Jack Black, "Let's Get it On" in High Fidelity.
Sure, it's a blast watching him dance down the aisles at a record store to "Walking                 on Sunshine" on a slow Monday morning, but when his heavy metal band – Kathleen Turner Overdrive – surprise John Cusak with this Marvin Gaye classic, it was classic.
http://www.youtube.com/watch?v=IvAnQeQ4K-c
—     Jim Carey/Jeff Daniels, "Mockingbird" in Dumb and Dumber.
As funny as the scene is, it does lose some comedy points for borrowing the scene Chevy Chase and Beverly D'Angelo did in Vacation. They were singing this to their kids in the backseat. They rolled their eyes, slapped on the headphones, and cranked out The Ramones.
http://www.youtube.com/watch?v=G5f_gbzo4Q0
—      Bill Murray, "More Than This" in Lost in Translation.
People either love or hate this movie. It was okay. I've always loved this Roxy Music song though, and it perfectly conveys just the right emotion in that scene.
http://www.youtube.com/watch?v=dpwIbqm-umk
—      Joseph Gordon Levitt, "Here Comes Your Man" by the Pixies and "Train in Vain" by the Clash in (500) Days of Summer.
At this point, I'm burned out by karaoke scenes in movies. Yet these worked well, since Levitt plays a shy guy that is smitten with new employee Zooey Deschanel. So after she sings a Springsteen song, and he has a few too many beers and jumps on stage…it's a perfect way to set up the romance.
http://www.youtube.com/watch?v=NDzDm-KGCs4
—      Samuel L. Jackson, "Black Snake Moan" in Black Snake Moan.
Strange that in a movie with Justin Timberlake, it's Jackson that sings. He's the depressed blues man (is there any other kind?) who mesmerizes Christina Ricci with his wicked take on a Blind Lemon Jefferson nugget. It's really him singing in the movie, but I doubt it's him on the bottleneck guitar.
—     Gene Wilder/Peter Boyle, "Puttin' on the Ritz" in Young Frankenstein.
One of the funniest scenes in movie history.
http://www.youtube.com/watch?v=co6-tYS9k1U
—      Madeline Kahn, "I'm Tired" in Blazing Saddles.
Yes, Mel Brooks makes the list a second time, having a prostitute channel Marlene Dietrich in the appropriately titled "I'm Tired."
http://www.youtube.com/watch?v=Uai7M4RpoLU
—     Meryl Streep, "I'm Checking Out" in Postcards from the Edge.
Is there anything she can't do? She can play real characters (Julia Childs, Margaret Thatcher), and in this she shows she has some pipes. Shirley MacLaine also does a nice job belting out "I'm Still Here." MacLaine will make my list of actresses faking an orgasm best on screen (see her doing that in Being There).
http://www.youtube.com/watch?v=iiJCL8X1aqU
—  Mark Wahlberg, "You've Got the Touch" in Boogie Nights.
I said in my intro that I didn't want to put singers that have become actors on this list. Yet Wahlberg was a rapper. That doesn't count. And since Boogie Nights is one of the best movies ever made, it would've been tough to leave this song out. As porn star Dirk Diggler, he seems to think he could get into a recording studio and make an album. It was great seeing Wahlberg come out on Jimmy Kimmel recently and join the band as they were playing this.
http://www.youtube.com/watch?v=eYAAbbuEpnw
—      Cameron Diaz, "I Just Don't Know What to do with Myself" in My Best Friend's Wedding.
At this point, I've grown tired of the bad signing at a karaoke bar in a movie. It's been done to death. This was one of the first movies to do it, and it worked well for the scene. Julia Roberts wants to sabotage Diaz…yet her bad singing of the Burt Bacharach classic, just makes her endearing to her fiancé and everyone else in the restaurant. It's a shame most of the movie sucked.
http://www.youtube.com/watch?v=EA8sWvlBx1U
—      Michael McKean, "Big Bottom" in This is Spinal Tap.
Again, I kind of went against my own rules here for this list. I didn't want songs from music related movies; but the fact that this is a fictional band, and we really only knew McKean from being Lenny on Laverne & Shirley – and this is such a classic comedy – it deserved a place on the list. This was the first of the Christopher Guest "mockumentaries" and arguably the best.
http://www.metacafe.com/watch/mv-XJBra/this_is_spinal_tap_big_bottom/
—      Mike Myers/Dana Carvey, "Bohemian Rhapsody" in Wayne's World.
In the recent Joseph Gordon-Levitt movie Don Jon, he's caught singing at a stoplight. It's cute, but at this point, the scene that shows singing in a car and being embarrassed when others see you…it's been played out. What's also great about the gang in Wayne's World doing it is…it was a group effort. Everyone had a part in the operatic Queen classic. And since they were a heavy metal band, you'd think only a song by Motorhead would warrant that kind of enthusiasm.
http://www.youtube.com/watch?v=d0A3pO3qui4
—      Michael Madson, "Stuck in the Middle with You" in Reservoir Dogs.
He might only sing a few lines of it, and strum a little air guitar…but it's such a classic scene that helped put Tarantino on the map. I had to include it. And much like how you can't hear Wagner's Flight of the Valkyries without thinking of the helicopters in Apocalypse Now…you can't hear this Stealers Wheel song without thinking of that scene.
http://www.youtube.com/watch?v=j0Wz59jc7lI
—      Julie Brown, "'Cause I'm a Blonde" in Earth Girls Are Easy.
Going from Mr. Blonde in Reservoir Dogs, to this blonde. If you missed this underrated Jeff Goldblum, Geena Davis, Jim Carrey movie, find it. It's a lot of fun.
http://www.youtube.com/watch?v=0rNfZxgkH7k
—      Steve Martin/Bernadette Peters, "Tonight You Belong to Me" in The Jerk.
We knew Martin could play the banjo, but he plays a mean ukulele on this. What's great is the song is so romantic, and it still has humor. Peters whipping out a trumpet, and the song finishing with Martin killing the romantic vibe with what he tells her about kissing and spit. Honorable mention goes to Martin singing "Maxwell's Silver Hammer" in the movie Sgt. Pepper's Lonely Hearts Club Band. I was 10 when I saw that and have never felt the need to revisit it. I do admit the album is in my collection.
http://www.youtube.com/watch?v=wyinJyWUhas
—     Ryan Gosling, "You Always Hurt the Ones You Love" in Blue Valentine.
This was one of the best movies of 2010. Audiences had a problem with the dark nature of a story that dealt with a courtship and divorce, edited together to show both as they developed. Gosling does sound a little Tiny Tim-esque, but he explains why he uses a funny voice. It's a beautiful moment on their first date, as Michelle Williams tap dances to the tune.
http://www.youtube.com/watch?v=4a5LRVzbAAw
—      John Belushi, "Louie Louie" in Animal House.
Everyone thought when the Kingsmen had a hit with this in the '60s, it was dirty. Yet nobody could really understand the lyrics. Iggy Pop has also covered it, and it's equally as hard to understand. Belushi also has a great scene dancing to Otis Day and the Knights, as well as with San Diegan singer/songwriter Stephen Bishop. He's on the stairs singing a goofy, hippie love song. Belushi seems interested. Until he takes the guitar and busts it against the wall; but Belushi singing "Louie Louie" isn't remembered much as him helping college toga parties become all the rage.
http://www.youtube.com/watch?v=WsXBHIYjTPw
—      Annie Potts, "Copacabana" in Pretty in Pink.
Of course, when it comes to songs, our favorite moment in this is Ducky lip synching to Otis Redding's "Try a Little Tenderness." If memory serves, Jon Cryer actually sings some John Lennon. Anyway, we shouldn't forget Potts nasally voice in this. It's cute and fun.
—      Ethan Hawke, "Add it Up" in Reality Bites.
I was really conflicted about putting this song on the list. I disliked the movie (all my friends loved it). Yet I'm a huge Violent Femmes fan, and Hawke is a good actor who angrily belted this one out.
http://www.youtube.com/watch?v=OdjEyU3Za_8
—      Adam Scott/Kathryn Hahn, "Sweet Child o' Mine" in Step Brothers.
A few of the songs are funny in this movie. How many of us couldn't stop singing "Boats & 'Ho's" after we saw it? But when we're first introduced to Adam Scott and his family in the car, as he's this choir task master from hell…it's hilarious.
http://www.youtube.com/watch?v=PbJHlrOJyng
—      Isabella Rossellini, "Blue Velvet" in Blue Velvet.
I think this makes the list because I had a huge crush on her at the time, and she did appear nude in the film. David Lynch is a nut job of a filmmaker, and he used Dennis Hopper perfectly. Hey…this is the second movie on the list that involves a severed ear.
http://www.youtube.com/watch?v=c1HxnwOC_bs
—      Bill Murray, "Do Wah Diddy Diddy" in Stripes.
Murray has now made the list twice. Perhaps that lounge singer he did in Saturday Night Live was for a reason. There was something so fun about the guys running at boot camp, and instead of those goofy drill sergeant songs, we hear some Manford Mann. At basketball practice in 8th grade, I led my team in a version of it as we were forced to run laps around the courts. It helped that they had all seen Stripes on HBO the night before.
http://www.youtube.com/watch?v=ZR5yhKQo3dc
—      Diane Keaton, "Seems Like Old Times" in Annie Hall.
It's a classic. Nuff said.
http://www.youtube.com/watch?v=9FAV3zr1PMk
—      Malcolm McDowell, "Singin' in the Rain" in A Clockwork Orange.
McDowell played a punk rocker in the horrible film Get Crazy (there is a great Lou Reed scene, though). Apparently, director Stanley Kubrick had spent five days doing this rape scene with singing. Kubrick asked McDowell if he could dance, and this was the result. The scene in this 1971 film so disgusted Gene Kelly, that he shunned McDowell at a party they were both at.
http://www.youtube.com/watch?v=SWvWyYz9ttk
—      The 25th is a tie. I'm going to go old school with two classic beauties. Audrey Hepburn, "Moon River" in Breakfast at Tiffany's and Marilyn Monroe, "I Wanna Be Loved By You" in Some Like it Hot, perhaps the greatest comedy of all time. Monroe played singer/ukulele player Sugar, and she sizzles on screen. Hepburn plays an acoustic guitar while sitting on a window sill. There may not be a more attractive actress ever.
http://www.youtube.com/watch?v=WQIvhotZSUw
http://www.youtube.com/watch?v=9J1OcKd_Dqw
Honorable mention goes to Gwyneth Paltrow, who had a few good songs in the movie Duets ("Cruisin'" and "Bette Davis Eyes"). She also pulled off decent singing in the horrible movie Country Song; Cheech Marin singing "My Sharona" (changed to "My Scrotum") in Cheech & Chong's Next Movie; Sean Penn jumping on stage to join the band in "Woolly Bully" in Fast Times at Ridgemont High; Jim Carrey singing to a suicidal Luis Guzman in Yes Man; Carey Mulligan singing "New York, New York" in Shame.
http://www.youtube.com/watch?v=cBz5IdxITP8