This is an archived article and the information in the article may be outdated. Please look at the time stamp on the story to see when it was last updated.
MCALLEN, TX – Jose Antonio Vargas, a Pulitzer Prize-winning journalist and immigration rights activist who publicly announced that he is undocumented, was taken into custody and then released Tuesday at a Border Patrol checkpoint in McAllen, Texas, the heart of the latest crisis over children fleeing Central America and illegally crossing into the United States.
Vargas was released on his own recognizance and given notice to appear before an immigration judge, according to a statement released by the Department of Homeland Security, the agency that oversees border and immigration issues. According to the government, Vargas told security officials at the airport in McAllen that he was illegally in the United States.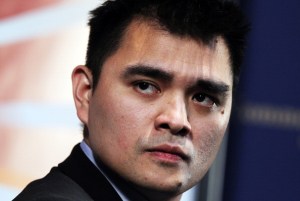 "As an unaccompanied child migrant myself, I came to McAllen, Texas, to shed a light on children who parts of America and many in the news media are actively turning their backs on," Vargas said after his release in a statement from the group he founded, Define American. "But what I saw was the generosity of the American people, documented and undocumented, in the Rio Grande Valley.
"I've been released by Border Patrol. I want to thank everyone who stands by me and the undocumented immigrants of south Texas and across the country," he said. "Our daily lives are filled with fear in simple acts such as getting on an airplane to go home to our family."
Many in the immigrant rights community immediately backed Vargas, but some questioned whether his action was a political move by a well-known activist who had signaled that he could be detained when he tried to leave Texas. In either case, the detention focused even more attention on the immigrant situation in Texas as well as on the problems that could arise for even a famous person lacking legal standing.
In June 2011, Vargas disclosed that he was undocumented in a piece for New York Times Magazine. A year later, he further described his illegal status in a cover story for Time. He also directed a film, aired on CNN in June, about his personal story as an immigrant living illegally in the United States.
"I've been the most privileged undocumented immigrant in the country," Vargas wrote last week in a piece for Politico magazine, in which he discussed the possibility of being unable to leave Texas. "The visibility, frankly, has protected me."
On Tuesday, Vargas, 33, was trying to leave for Los Angeles when he was taken into custody at McAllen-Miller International Airport. Vargas tweeted that he was going through airport security carrying his Philippine passport and a pocket edition of the U.S. Constitution and the Declaration of Independence.
"About to go thru security at McAllen Airport," Vargas tweeted. "I don't know what's going to happen."
Vargas had gone to Texas to cover the story of tens of thousands of children who have fled Honduras, El Salvador and Guatemala and illegally crossed into the United States. The flood of migrants has set off a political storm, along with demonstrations and discussions around the country. Vargas wrote that he wanted to help change what he saw as an anti-immigrant bias in the coverage.
"I also came here to share my own story of coming to the United States as an unaccompanied minor from the Philippines," Vargas wrote last week in Politico. "I wanted to help change the narrative of the conversation and, with a camera crew, share stories from the shelter and its volunteers. The visit to the shelter was intense and sobering, watching small kids fight for their lives with nothing more than their spirits."
In his magazine piece, Vargas said that he might not be able to leave because he lacked valid U.S. papers. He wrote that he had visited the border in California and had traveled around the country but was unprepared for the heightened security at the airport and at interior border control checkpoints in and around McAllen. Friends warned him of possible problems, but Vargas was undeterred.
Ryan Eller, a campaign director for Define American, said the activist's supporters have been communicating with him.
"Border security is doing their job and apparently they're doing it quite well," said Eller, noting that, as in many immigration cases, "there is a lot of uncertainty."
Eller spoke with The Times while standing in a parking lot, talking on the phone to colleagues and occasionally to a cluster of supporters across the street from the McAllen Border Patrol station.
Tania Chavez, 28, an organizer with the Minority Affairs Council at the nearby University of Texas-Pan American, said she and other undocumented immigrants from mixed-status families in the Rio Grande Valley related to Vargas' plight. Some wore homemade shirts that said "The RGV is trapped," "I am trapped" and "My family is trapped."
"We are trapped within the boundaries of the checkpoint and the international bridge," Chavez said, "We are trapped in a cage. He [Vargas] had come to the valley to stand up for the thousands of children who are detained. The irony is he is now detained with those children.
"Jose Antonio got to live in five days what some in the Rio Grande Valley have lived for years," she said.
But some remained skeptical, including Brian Johnson, an attorney in New York who represents several Central American minors in immigration court.
Vargas probably "knew he would be arrested by Border Patrol before he made the trip to south Texas," Johnson said in a message to The Times, saying it appeared that Vargas was trying to increase pressure on the Obama administration to expand deferred immigration action for everyone. Johnson said the incident was unlikely to help protect unaccompanied children from deportation.
Johnson said he thought that Vargas would be released quickly.
Vargas was born in the Philippines but came to the United States when he was about 12 and his mother sent him to live with his grandparents in Mountain View, Calif. He has written that he did not learn he was an undocumented immigrant until he was 16, when he tried to get a driver's license with what he discovered were fraudulent documents. He continued his education and used fake documents.