This is an archived article and the information in the article may be outdated. Please look at the time stamp on the story to see when it was last updated.
SAN DIEGO — Three former allies of Bob Filner Monday provided damning details of what they called a pattern of sexual harassment by the mayor against female employees and supporters.
At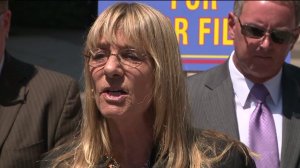 a late-morning news conference in front of City Hall, former City Councilwoman Donna Frye and attorneys Marco Gonzales and Corey Briggs recounted the experiences of three different women with Filner. The behavior they alleged included lewd comments, forcing kisses on women, and groping their breasts and buttocks.
"This is the type of behavior I spoke to the Mayor about, after I learned about first hand of him sexually harassing more than one woman," said Frye.
Fry, Gonzales and Briggs would not name the women who have made the allegations.
Frye read statements by two women. One of them went to meet with the mayor about a policy issue. She entered Filner's office with a staffer and Filner asked the staffer to leave the room. When they were alone, Filner asked the woman if she was single or seeing someone. He told her he wanted to go out with her and asked, "Can I kiss you?" Frye said. Before she could respond, Filner grabbed the woman and forced a kiss on her. The woman left Filner's office upset and flustered.
The second woman was a supporter who worked on Filner's mayoral campaign. She said that after the election, Filner invited her to a breakfast meeting, where he made unwanted advances, telling her that she was beautiful and that he wanted to kiss her. She rebuffed the advances, but after they left the restaurant and were on the street, Filner grabbed her and kissed her, forcing his tongue into her mouth, Frye said. The woman had offered Filner a ride home, once he was in the car, the mayor made sexual advances towards her.
"The mayor had his hand on the inside of her bra and was again trying to put his tongue down her throat," said Frye.
"Sexual abuse and this behavior is not normal," former Frye shouted into the microphone. "Bob Filner is tragically unsafe for any woman to approach."
Gonzalez said the women described a pattern of behavior that he called the Filner headlock, which took place in the Mayor's Office and at fundraiser. When Filner saw a woman he was attracted to, he would put his arm around her, pull her close and ask if she had a boyfriend. This often led to what Gonzalez called the Filner dance, where the mayor would try to kiss the woman in question while she struggled to evade his unwanted advances.
Gonzalez described the harassment that his client, a city employee, allegedly suffered from Filner . He said Filner repeatedly tried to kiss her over the past six months. At one point, the mayor "grabbed her ass and touched her chest." The woman also witnessed the mayor try to kiss another employee and make rude comments.
"There is no circumstance that it would be appropriate for the mayor to enter into an elevator with my client or any person who he employs and to tell them that they would do a better job on that floor if they worked without their panties on," Gonzalez said.
Gonzalez said the actions described by the three women who came forward amounted to "an egregious abuse of power by a man who many of us respected and admired."
Gonzalez said that he planned to file a sexual harassment with the city on behalf of his client, who is a city employee. He said that civil lawsuits may follow.
Only Filner's resignation will "help stop this horrible, horrible civic nightmare," Frye said.