This is an archived article and the information in the article may be outdated. Please look at the time stamp on the story to see when it was last updated.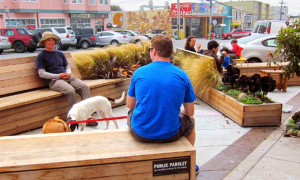 SAN DIEGO, CA — It's much smaller than a park but bigger than a bus stop.
A "parklet," offer's pedestrians a public place to meet up.
"Whether they're getting coffee or grabbing lunch," said Kevin Clark with the North Park Main Street business group.
They come with benches, tables, umbrellas, and are often made out of recyclable materials.
Parklets are well known in cities like New York, L.A. and especially the San Francisco Bay Area.
Now one is about to be built in North Park, on the 3900 block of 30th Street right in front of Caffé Calabria, a first for San Diego.
The pilot project has already been approved by the city of San Diego.
Cost wasn't an issue; 2 North Park businesses, Caffé Calabria and OBR Architects, are footing the bill expected to reach roughly $15,000 said Clark, who's spearheading the project.
But there is some concern over whether people will actually use it, but even more so over parking.
Building the 28 feet long by 6 feet wide space will take away at least 2 parking spots near 30th St. and University Avenue, where it's always busy.
"I think if someone had the money they should knock down a building and put up a 3 level parking garage, not a park, parking here is terrible," said North Park resident Glen Helling.
"In Southern California it's always a concern to have ample parking but you also have to consider pedestrians," said Clark.
He also stressed how the parklet is meant to be an economic stimulator, "the more people walk; the more they spend."
The North Park Parklet is set to be up by June and plans are already in the works to build 4 others across the city.