This is an archived article and the information in the article may be outdated. Please look at the time stamp on the story to see when it was last updated.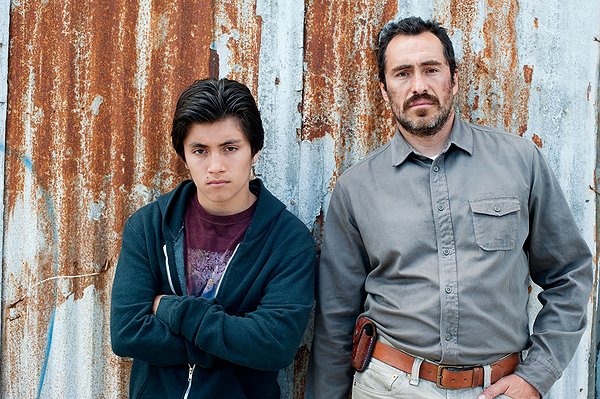 Demian Bichir does a great job playing an illegal immigrant and gardener in this movie, but the rest of the cast didn't seem authentic to me.
When his son (Jose Julian) is with classmates or they're talking to gang members, it all seemed forced.
It felt like I was watching Stand and Deliver – but instead of a teacher with a great heart, it's a gardener.
There were so many unauthentic moments in this film. One of these is when the gardener is being driven home by his boss, and his sad eyes look out the window at all the various happy families; the rabbi, the jogger, the rich woman with a foo-foo dog, the Mexican family from the middle class neighborhood – until he finally arrives at his home. There are gang members on the corner of his tiny one bedroom apartment where his son sits bitterly on the couch hating his lot in life.
None of this seemed like what a day in the life of a gardener would be like.
I wondered, as the crowd was sopping this up, if anybody considered how the kid even got into school; or if they thought about taxes or crimes that are increased by some illegals. Don't get me wrong – the last thing I want to do is sound like one of those political talk shows with a windbag like Rush Limbaugh spouting off. I just wasn't as sympathetic to the characters as the filmmakers wanted me to be.
I have a friend that had a restored old Camaro T-boned by two illegal immigrants that didn't have a license. Last I heard, he was arguing with his insurance over what the car was actually worth, and it wasn't looking like he'd get the money he put into it. Now, if I saw a film showing these illegals living in a small apartment working a hard job for low wages, does that change how I feel about them driving unsafely and putting lives in danger? But I digest (just ate some Mexican food at El Torito).
We know the protagonist in the movie was doing something illegal (driving without a license). And he knew better, too. He told his son just being pulled over for a broken taillight could be trouble.
Director Chris Weitz did the movie About a Boy, which I loved.
He also did American Pie, The Golden Compass, and a Twilight film.
In reading the press materials, I see the movie used some former gang members. This adds nothing to the authenticity. Remember how we heard that Michael Jackson used real gang members for his Beat It video? Did that make it cool, or did it look like something from a more modern West Side Story?
This script lacks a lot and the whole story felt like an afterschool special.
I'd suggest you rent a similar story – done a thousand times better: The Bicycle Thief. It's an Italian classic from the late '40s that still holds up nicely today.