This is an archived article and the information in the article may be outdated. Please look at the time stamp on the story to see when it was last updated.
SAN DIEGO — A ninth woman stepped forward Thursday accusing San Diego Mayor Bob Filner of sexual harassment.
Emily Gilbert told Fox 5 that she met the mayor at a fundraiser just days after Filner took office in December.  Gilbert, who works as a Marilyn Monroe impersonator, was hired to sing at a fundraising event.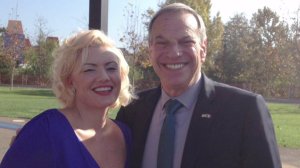 "He grabbed me a little too tight, then proceeded to slide his hand down my arm and then did a little grab on my derriere," Gilbert said. "I didn't want to make a scene. There were kids around."
She tried to laugh it off but was embarrassed by the crude behavior.
When Gilbert's husband found out, he was livid but felt helpless.
"What was I going to do? He's the mayor," said Jason Gilbert, a former major in the Marines. "We don't want any money, but we think the mayor should make a donation to a woman's cause… Actions speak louder then words. He needs to resign."
So far, eight women have publicly accused Filner of sexual harassment and one, his former communications director, has filed a lawsuit against him and the city of San Diego.
Fox 5 has reached out to the Mayor's Office every day for the past 21 day for comment, but still has not heard back.