This is an archived article and the information in the article may be outdated. Please look at the time stamp on the story to see when it was last updated.
SAN DIEGO — The 91-year-old woman who set a world record during the Rock 'n' Roll San Diego Marathon over the weekend revealed her secret to success.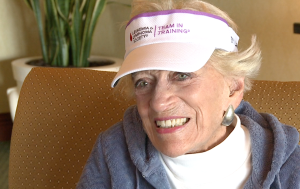 "Usually it's not hard for me to be number one in my age group because I'm the only one," said Harriette Thompson. "When the gun went off, my son was so smart he stayed right behind me in case some of the other runners would hit."
Her 7 hours and 7 minutes set a new world record in her age division Sunday, shattering the old record of 8 hours and 53 minutes.
"As I got through the first half marathon, I thought that wasn't so bad, then it got harder and harder and by the 17th mile I was thinking, I'm not sure this was a good idea," said the Charlotte native.
The oldest competitor in the race hadn't trained much for the event, having recently undergone radiation to treat skin cancer.
"Eventually I kept going and got enough energy to make the final push," she said.
The nonagenarian said there's nothing special to her success but there are a few rules she lives by.
"I love breakfast, I like it better than any meal," and she added, "I always wear makeup."
Thompson who is a classical pianist now plans to get ready to go on a musical tour in the fall.