This is an archived article and the information in the article may be outdated. Please look at the time stamp on the story to see when it was last updated.
SAN DIEGO — San Diego animal lovers are pitching in to help furry victims of Hurricane Harvey.
A group from the Helen Woodward Animal Center will step off a plane at San Diego International Airport Tuesday with 80 dogs and cats orphaned from Houston shelters after the devastating storm. The animals are now destined for the center in Rancho Santa Fe, where they are inviting the public to welcome the animals and consider adopting them beginning at 2:30 p.m. Tuesday at 6523 Helen Woodward Way.
Loading up the #HarveyPets and buckling them in! @SouthwestAir #HarveyPetsFlight pic.twitter.com/kMEX8wqxFt

— Helen Woodward (@HWAC) September 5, 2017
On Thursday, four Woodward staff members flew to Austin before driving to the Lone Star Convention Center north of Houston, where a local rescue organization brought in hundreds of dogs and cats from damaged shelters in the storm-ravaged region.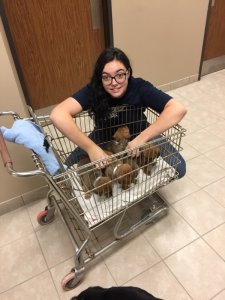 "You look at all of those faces and know that their stay at the shelter was meant to be temporary," said Jennifer Shorey, Helen Woodward's director of operations.
"It was supposed to lead them to forever homes, but when something as devastating as a hurricane hits, so much has to be left behind," Shorey said. "People lose their homes, their possessions, and just focus on survival. And those orphan pets are left behind too. You realize how much of a difference you can make and how many lives you can save."
The Woodward center said Tuesday's transport is being made possible by Southwest employees donating the use of the plane and their time.
If you'd like to foster a pet, click here.
This slideshow requires JavaScript.