This is an archived article and the information in the article may be outdated. Please look at the time stamp on the story to see when it was last updated.
SNOHOMISH COUNTY — The number of those possibly missing in the huge mudslide north of Seattle more than quadrupled Monday morning, jumping to 108.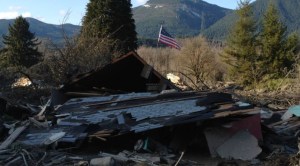 John Pennington, the director of the Snohomish County Department of Emergency Management, announced the most recent numbers at a 9 a.m. press conference. He stressed the number of people possibly missing, 108, was a compilation of missing persons reports composed through a variety of different sources. He said 108 missing was by no means a complete, finalized or totally accurate number.
"We have 108 individual names, or likeness," Pennington said. "It's a soft 108."
Pennington said his county officials consolidated multiple lists to come to the soft number. He anticipates the number will come down, not increase.
"The number is no question going to decline dramatically," he said.
Search and rescue officials could not confirm any more death's in Saturday's mudslide, as the total number of dead remained at eight.
No new survivors were found.
"Total devastation. I mean, it's just unbelievable. It reminds me of what a tornado looks like when it's touched the ground," Snohomish County Sheriff Ty Trenary said.
At one point, he pointed at a pile of muddy rubble.
"You can tell from the debris this appears to be part of somebody's kitchen, the inside of the house," he said.
The landslide covered about one square mile and was caused by groundwater saturation tied to heavy rain in the area over the past month.