This is an archived article and the information in the article may be outdated. Please look at the time stamp on the story to see when it was last updated.
WASHINGTON — Seven U.S. service members were killed Thursday in a helicopter crash in western Iraq, a U.S. military official said.
There were no survivors in the crash, the official said, adding that the crew of a second helicopter flying alongside did not report seeing signs of hostile fire when the helicopter went down.
Multiple U.S. defense officials told CNN the aircraft was a HH-60 Pave Hawk helicopter, a Black Hawk variant. They said the helicopter was not on a combat mission at the time.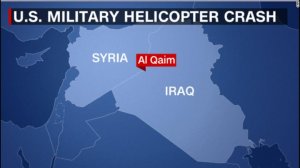 The U.S.-led coalition fighting ISIS in Syria and Iraq said Thursday that an investigation was underway to determine the cause of the crash.