This is an archived article and the information in the article may be outdated. Please look at the time stamp on the story to see when it was last updated.
SAN DIEGO – A $6,000 reward has been offered in the search of a man suspected of shooting an off-duty sheriff's deputy in the Gaslamp Quarter, authorities announced Thursday.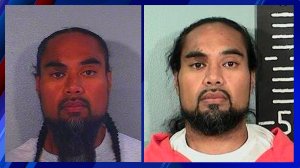 Investigators have been searching for 37-year-old Ray Koloseta Pitoau since August 7 when he allegedly confronted two off-duty Escondido police officers and deputy Jason Philpot in the 500 block of Island Avenue. A struggle ensued and the deputy was shot three times in the shoulder while a bystander was shot in the arm by an apparent stray bullet, authorities said.
Philpot suffered non-life threatening injuries.
Pitoau was described as a Samoan man, 5-foot-11, weighing 225 pounds. He has long black hair braided into two ponytails, brown eyes and a "SD" tattoo on his upper right chest.
Anyone with information on his whereabouts should call San Diego police at 619-531-2000 or Crime Stoppers anonymous tip line at 888-580-8477.
Crime Stoppers is offering up to a $1,000 reward for information leading to an arrest. Deputy Sheriff's Association of San Diego County is offering $5,000.