This is an archived article and the information in the article may be outdated. Please look at the time stamp on the story to see when it was last updated.
SAN DIEGO — Five San Diego gas stations along Interstate 15 were robbed at gunpoint early Wednesday, possibly by the same thief.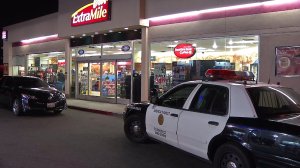 The robberies began around midnight at the Shell gas station at 7785 Clairemont Mesa Blvd. in Kearny Mesa, according to San Diego police Officer Dino Delimitros.
About 10 minutes later, a nearby Chevron station at 7070 Clairemont Mesa Blvd. was also robbed and around 12:20 a.m., another Chevron station at 7737 Balboa Ave. — also in Kearny Mesa — was robbed in similar fashion, Delimitros said in a statement.
Shortly after 1:30 a.m., an armed robbery was reported at the Chevron station  at 11095 Carmel Mountain Road in Rancho Penasquitos and just before 2 a.m., a robber held up the Arco station at 8820 Clairemont Mesa Blvd. in Kearny Mesa, he said.
The suspect in four of the five robberies was described as a white man in his late 20s or early 30s. An approximate age was not available in the fifth robbery.
Most of the victims also said he wore a baseball cap, white T-shirt and gloves, according to Delimitros. In each robbery, the suspect fled on foot.
The county Sheriff's Department Wednesday  also investigated an armed robbery in Lakeside that may be related to the five in San Diego. Sheriff's Sgt. Dave Martinez said the USA Gas in the 12100 block of Woodside Avenue was robbed at gunpoint by a white man in his 20s to 30s around 11:30 p.m. Tuesday. He also wore a baseball cap, white shirt and gloves, according to Martinez.