This is an archived article and the information in the article may be outdated. Please look at the time stamp on the story to see when it was last updated.
SAN DIEGO – A case of road rage that left a community activist dead in Mission Beach, turned into a court case Thursday. The driver accused in the crash made his first appearance before a judge.
Jonathan Domingo Garcia, 23, accused of killing a 68-year-old community activist removing graffiti in Mission Beach pleaded not guilty Thursday to eight charges, including gross vehicular manslaughter while intoxicated and felony hit-and-run.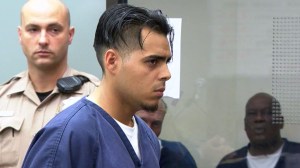 Deputy District Attorney Steve Schott told Judge Jay Bloom that at about 3 p.m. Friday — three hours before the crash — Garcia and a friend were seen slashing tires on cars.
About three hours later, the car Garcia was driving rear-ended a Ford Mustang, and he failed to stop, the prosecutor said.
The driver of the Mustang pulled in front of Garcia's Toyota Corolla, authorities said. Garcia then made an illegal right turn in a 15-mph zone, and struck the victim, who was on the road's shoulder, Schott said. Gardner died the next day.
"The defendant didn't stop. He actually drove down and parked, exited his vehicle and checked for damage on his car. He spent 5 minutes doing that," said Schott. "He then returned to the area and an officer tried to flag him down. Once again he did not stop. And instead continued to drive, actually struck another vehicle. Did not stop. Before the officer finally made contact with him."
"Instead of asking about the person he just struck on the roadway, he asked when he could get his car back," said Schott.
Three hours after the accident, Garcia's blood-alcohol level was measured at .06 percent, Schott said. Alcohol, marijuana and depressants were found in the defendant's system.
"I think the defendant is an extreme danger to the community by his callousness by the act itself plus he's a flight risk," the judge said. "If he's going to do hit and runs there's no guarantees he'll come back. So bail is set at $550,000 and waiving bail review."
Garcia faces 15 years in prison if he's convicted. His next court appearance will be March 10.
Gardner, a former principal at Mission Bay High School, was honored by the San Diego City Council last year, which declared Nov 3 "Maruta Gardner Day." Gardner would have celebrated her birthday this Saturday.