This is an archived article and the information in the article may be outdated. Please look at the time stamp on the story to see when it was last updated.
SAN DIEGO --  Martin Luther King III will mark the anniversary of one of his father's most famous speeches by coming to the San Diego-Mexican border Tuesday to deliver a speech on immigration.
Tuesday marks 55 years since Martin Luther King Jr. gave one of the most influential speeches in American history: the "I Have A Dream" speech.  However, very few people are aware he visited San Diego and spoke at what is now Point Loma Nazarene University and at San Diego State University just nine months after that speech.
According to an anthropology professor at San Diego State University, many people in the school and the city during that time were hoping to erase Dr. King's visit from the school's and San Diego's history books.
On May 29, 1964 Dr. King visited San Diego. He spoke at two colleges, including SDSU before an audience of nearly 4000 at the San Diego State Open Air Theater, but there are very few artifacts from that historical visit.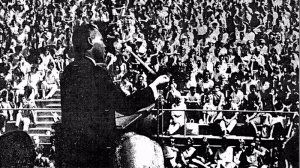 "It wasn't covered in the local paper except for a small photo buried in the back. And then -- this is where it gets exceedingly troubling -- is the original of all these photos has been lost," said Professor Dr. Seth Mallios.
Mallios has spent years collecting material and memorabilia from King's  visit. He said he was surprised and troubled to find only two photos and a receipt documenting King's speaking engagement at SDSU.
In 1964, the city of San Diego was still segregated. Mallios believes that many people in leadership positions at the time did not want to draw attention to the visit from the renowned civil rights leader.
"The African Americans will tell you they couldn't try on clothes at a department store (in those days).  They could only live in certain neighborhoods. And the white kids will tell you how white it was," said Mallios.
King's visit to San Diego came at a very important time for the civil rights leader.
"Halfway in between two of the biggest things for him. One is his 'I have a Dream' speech and the other's is to be the youngest person ever to win the Nobel Prize -- two of the most important things of the 20th Century. He visits San Diego exactly half way between those two. A there is no mention of it," said Mallios.
Today there is a large plaque commemorating King's visit at the Cal Coast Credit Union Open Air Theater at SDSU.  It is the only lasting memorial to a moment in time that was literally almost wiped away.
"It wasn't until about 45 to 50 years later that a team of us were able to find material, raise money and get people excited passionate enough to have the placement of the new plaque," said Mallios.
Tuesday, Dr. King's son Martin Luther King III, will be in San Diego at Border State Park to commemorate the 55th anniversary of the  "I Have a Dream" speech by calling attention to the immigration issues that the country is facing today at the US-Mexican border.